Gitmo Gedunk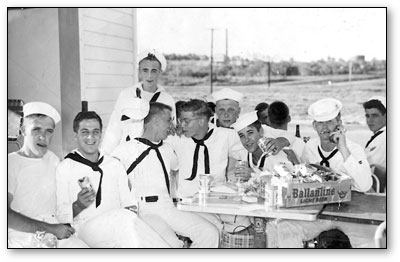 Robbie 'deck apes' enjoy an on-base liberty (oxymoron?) at Guantanamo Naval Base, Cuba, 1956. The ship was there for degaussing, prior to ASW exercises near by.
This happy group, in need of a bit of degaussing itself, was photographed at the base's Gedunk (aka "Slop Chute"). At the time, off-base (Cuban) visits were forbidden to all Gitmo sailors.
This photo was contibuted by Marcus 'Smokey' Wainscott, the only sailor still standing.
Others: Glennis Ellington far left, Ralph G. Mascia seated second from left, Joseph W. Mailloux, bending over table - 5th from left. Tell us if you recognize others.