2000 Robinson Reunion Memories
Staged on a beach of the Atlantic Ocean -- an ocean known intimately by Robbie sailors -- this reunion will be remembered for the new shipmates welcomed into the fold, the old friendships renewed, and the oft-refreshed tales and memories of long ago and far away. We counted seventy two shipmates and first mates:
Armstrong, Doris
Beard, Joe
Bowne, Art
Breeden, George & Ora
Callahan, Bill
Carney, Ron & Rosemary
Clegg, Tom & Peggy
Compton, Vern & Marge
Donahue, Bill & Betty
Douras, Bill & Jean
Duran, Tony & Tina
Elston, Ray & Pat
Endrizzi, Henry & Emma
Ennis, Bob & Peg
Ernsberger, Jim & Mary Ellen
Ferguson, Bob & Elaine
Flege, Geotge & Rita
Gruny, Dick & Di
Harshbarger, Jerry & Sharon
Johnson, Maurice & Mary
Kuzenski, Ken & Sally
Lucas, John & Karen
Mariana, Joe
Masella, Pete & Marge
Miller, Dave & Betty
Moore, Ralph & Ginny
Querey, Ray & Renee
Reynolds, Buck & Barbara
Robertson, Fred & Lois
Sabatini, Joe & Carolyn
Schuetze, Art & Bonnie
Schureman, George & Eleanor
Schwerin, Frank & Joanne
Szczepkowski, Ted
Tinker, Rich & Betty
Tomkinson, Jim & Maye
Vereecke, Walter
Welsh, Bob & Ginny
Wise, Howard & Betty
Womble, Tom
Of these, we were pleased to welcome six shipmates and first mates aboard for the first time: those above with the emboldened names. Most of these good folks were 'discovered' via the tireless efforts of Frank Schwerin, our champion 'finder of lost shipmates', or by chance encounters with our Robbie web site. We unfortunately have no picture to display of the full group of attendees, nor of any sub-group excepting the fast-dwindling group of WWII sailors displayed below. [If you have access to a reunion 2k group photo, with names, please contact us.]

World War II Attendees
Left to right: Ralph Moore, William Callahan, William Douras,
Maurice Johnson, Fred Robertson, Ted Szczepkowski,
Dave Miller, George Flege, Tony Duran, George Breeden.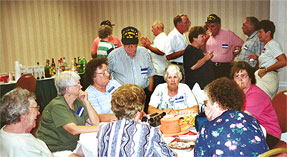 Early (Wednesday) arrivers congregated in Ray and Renee Querey's room for snacks, cocktails and good fun. On Thursday - the day most attendees arrived - the hospitality room opened under the able host-ship of Ray Douras. Friday morning, some of us stood on the hotel patio peering to the south, hoping for a view of the launch of shuttle Atlantis at Cape Canveral - 60 miles distant. We were not disappointed. The flash of ignition was clearly visible on the horizon right on time. We watched the shuttle arch up and out over the ocean, leaving a thin trail of smoke in its wake - headed for the international space station with bathroom supplies for the three station residents due on the next shuttle visit.
A planned bus tour of the old homes of the Daytona Beach area on Saturday morning was cancelled for lack of takers. Saturday evening was banquet time.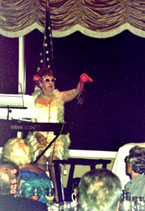 Following a delicious meal served up at our hotel banquet room, we were entertained by Evelyn Smiley and her 'troupe' of 8 female models recruited from among our own first mates. Multi-talented Evelyn played for us, on her digital keyboard, songs of earlier eras - changing her costume in accordance with era. She also displayed period ornaments and adornments, all accompanied by clever dialog and banter with her audience. She paraded her 8 models among the banquet tables showing off their period hats. Finally she lead us all in a sing along, including, of course, "Anchors Aweigh". This was a show to remember. Thank you Evelyn, wherever you are!
A boat tour on the Halifax River was on the Sunday morning agenda. Thirty of our group got a close-up look at the elegant homes lining the shore, as well as the wildlife - birds, pelicans and dolphins, but no hoped-for manatees. A lunch mix-up caused an early return to the hotel. Then it was 'hit 'em up, head 'em out' time. The last to leave helped our hosts pack up the remains of the hospitality room refreshments - one twelve pack of beer and six loose cans - a new record! Then farewell, until we meet again!
---