Year 2006 Reunion – Our 26th
San Antonio, Texas
September 14-17, 2006
Hilton San Antonio Airport
611 Northwest Loop 410
San Antonio, Texas
Tel: 210-340-6060 Fax: 210-377-4674
Web: www.hiltonsanantonioap.com
Specify "In house reservation, USR group";

Contact: To register interest in attending, contact:
Art Bowne, Secretary
USS Robinson DD562, Inc.
Phone (after 4 July '06): (409) 935-2253
E-mail: ajbowne@frontiernet.net
Anyone desiring copies of our USS Robinson DD562 Inc. exemption application and supporting documents for "non-profit" organization, please contact:
George Schureman
24 Miles Road
Radnor Green, Claymont, DE 19703
Phone:(302) 798-7111

---
2006 Robinson Reunion Memories
What is so fair as a day in September?
Then, if ever, come Days to Remember…
…especially if you were with our happy crew in San Antonio, Texas, last September.
How much fun was it, you ask? We attempt to answer that question below, with the hope that you will join us next September in Branson, Missouri, especially if you join us.
How about going nose-to-nose with a WW2 B-29 bomber? It was just one of a collection of fighting aircraft at Lackland AFB, where we observed the graduation of a huge class of brand new USAF airmen.
Or how about a fun-filled lunch of Bratwurst a la sauerkraut at a German restaurant in Fredericksburg, Texas? This was a noon break in our tour of the Admiral Nimitz Museum next door.
If you are of the fairer sex, perhaps our first-time ladies' hat contest is more your cup of tea. Below you see five contestants warming up for the event. The gals had a lot of fun with this while the guys were in crew meeting, deciding to go to Branson in 2007. The ladies hat contest is likely to be continued into the future, so, ladies, there is likely to be a VEST contest at Branson. Stay tuned!
So, exactly who attended the reunion to make it so much fun? Well there were…
In Attendance
Charles and Annie Allen
Dick and Terri Bonheim
Art BowneCurtis Castleman
Tom and Peggy Clegg
Vern and Marge Compton
Roy Davis and Nellie Haarmeyer
Tony Duran
Jim & Mary Ellen Ernsberger
Bob and Ekaine Ferguson
Gene Ferguson
Bill and Millie Gelmini
Dick Gruny
Norm and Carol Hebert
Don Hendrick and Jean Hollis


Ron and Joanne Kaiser
Russ Maggio & Carol Fay Dudeck
Derril Mark
Pete and Margie Masella
Dave and Betty Miller
Ralph Moore
Hal and Gloria Mullen
Bill Murphy and Joan Patten
James and Sharie Paulson
Ray and Renee Querey
"Buck" and Barbara Reynolds
John and Jane Rhodes
Fred and Lois Robertson
Joe and Carolyn Sabatini
Art and Bonnie Schuetze

George and Eleanor Schureman
Frank and Joanne Schwerin
Wes and Karen Shanholtzer
Charles and Patsy Smith
Joe and Kelly Sparkman
Vic and Camille Stone
Jim & Maye Tomkinson & Dot Kiker
Walter Vereecke
Judy Wainscott & Donna Glover
Bob and Virginia Welsh
Luke and Sue West
Don and Connie Wiser &
Tom Womble

Of these 78 fun-loving folk, we are pleased to highlight those who were attending their first Robbie Reunion:
James and Sharie Paulson, from Lake Charles, LA. Jim served aboard as a Sonarman, 1958-60. They brought with them a remarkable set of photographs showing several Fletcher class destroyers, including our Robbie, at various stages of construction. Watch Tin Can Sailor for copies.
John and Jane Rhodes, from Strasburg, VA. John served aboard as a Machinist Mate from 1963-64. We shared the Rhodes with the USS Soley reunion running simultaneously.
Joe and Kelly Sparkman, from Slaton, TX. Joe served aboard as a Quartermaster from 1956-58.
Victor and Camille Stone, from Las Vegas, NV. Vic served aboard as a Signalman from 1957-58.
Dick and Terri Bonheim, from Copperas Cove, TX. Dick did not serve on the Robinson, but he surely served the Robinson heroically. More about that later. We simply note here that he served with distinction in our brother services – the USAF and the USA - before fate brought him to us.
A successful reunion depends upon happy attendees, but also upon the planners and facilitators who set the stage and run the show. Here we thank George Schureman, our Treasurer, and Art Bowne, our Secretary and MC. Our Hospitality Room hosts, Bob Ferguson and Tom Clegg, saw to our hospitality needs admirably.
Korea Era Shipmates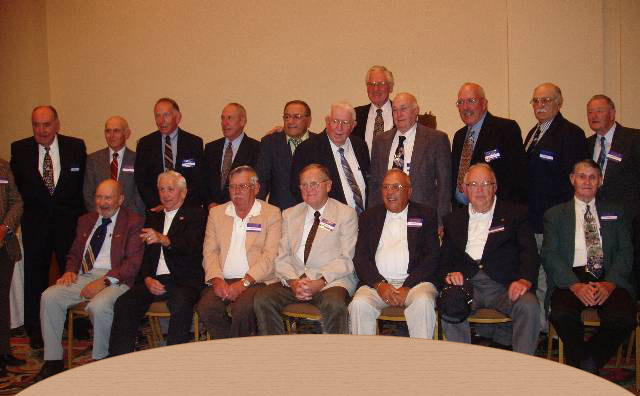 Post-Kora Era Shipmates
WWII Era Shipmates
Lackland AFB Visit
Friday of our reunion just happened to coincide with graduation day for the 37th Training Wing at Lackland AFB. Aware of this, our planners had contacted the Base and been granted the privilege of attending the ceremony as special guests. We found ourselves seated in a special up-front seating section. From this vantage point, we watched the proceedings with great interest. We learned that the graduates had just completed six weeks of basic training following first enlistment. Many of us revived old memories of our basic training days at Great Lakes NTS. There were, of course, striking differences, starting with the appearance of women in uniform. Later we discovered they experienced better meal and quartering facilities than we remembered at Great Lakes.
Following several speeches of inspiration by the Commanding General and others associated, the graduates, over a thousand of them grouped far away at the remote edge of the parade ground, formed up and marched toward us, and passed in review. It was awe inspiring. After the revue, some of us mingled informally with the graduates. To a person, they seemed dedicated to serving their Country, no matter where events might carry them. We were deeply impressed, and left them feeling the Air Force is in good hands. Following the review. We wandered the grounds, marveling at the collection of WW2 aircraft parked on its boundaries.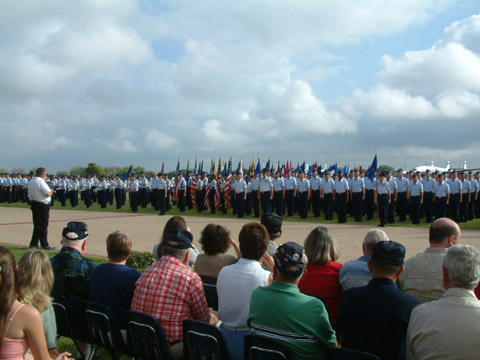 A Tale of Two Bowlers
Dick and Curt first met as teammates at a bowling alley in Aurora, Colorado, back in the late 90s. But they barely got to know each other when Dick and his wife moved to Texas. That might have ended their friendship right there, but Curt didn't want that to happen. So in April of 2000, Curt contacted Dick and arranged a one day visit to Dick's Copperas Cove home. There the two ex-teammates settled in for a friendly, self-defining chat. Dick, it turned out, is a USAF/ARMY veteran of the Korea-Viet Nam era, and head of a military family.. When the conversation turned to Curt's past, Dick, and wife Terri, learned of Curt's service aboard a couple of US Navy destroyers during WWII. In particular he mentioned the sinking of a Japanese submarine en rout to the invasion of Saipan in June of 1944. That did it! Dick asked Curt if his ship had a web site. Curt thought not, but Dick went to his computer, and searched for a web site related to the ship USS Robinson. Suddenly there it was on the screen – our web site – facing a stunned Curt.
By now you probably realize that the 'Curt' of this piece is shipmate Curt Castleman, and his Texas pals are Dick and Terri Bonheim. After Curt survived the shock of discovering the web site, he resolved to start attending our reunions. He also noted that we had misspelled his middle name in our crew listing, and, more importantly, there was nothing in the web site about the sinking of the Japanese submarine!. This was flung at our webmaster as a challenge, to which he responded that he was looking for someone who had "been there, done that" to tell the story of that eventful night attack. Thus was conceived the site page titled "First Blood" authored by Curt Castleman. . Dick Bonheim picked up the challenge to learn the facts of the matter. He and his family spent countless hours pouring through published records bearing on the incident, both in US and Japanese archives. The results were published by Dick in a 2002 book titled "HEROES…those whose hearts touched our lives and remain in the warm glow of our memories, FOREVER": hundreds of pages of ship logs, charts, sketches, literary extracts and e-mail communications, a tremendous tribute to us of the Robbie!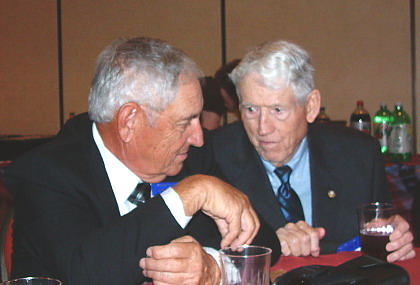 No wonder, then, that we should invite the Bonheims to share with us the afternoon and evening of our banquet Saturday. It provided our two bowlers a chance to discuss old scores, while giving the rest of us the pleasure of getting to know this dynamic Bonheim duo.
Now it was banquet time. After pledging allegiance to the colors, and honoring our recently-departed shipmates. the Bonheims were introduced to the gathering, and Dick was asked to speak. Unknown to the rest of us, Dick had been in contact with Roger Rieman, a destroyer veteran of the USS Cony, DD508. It was the Cony that was ordered to replace Robbie in the submarine attack of 14 June 1944, so that Robbie could resume her head screening duties for the Saipan invasion force. As a consequence, there arose a bit of a dispute over which, if either, ship, had scored a sink. Here is Roger's message as read by Dick:
"Thank you for contacting me and giving me the opportunity and the honor for this chance to send a message to the Robbie crew at the San Antonio Reunion. I think I can speak for all of the USS Cony DD508 shipmates to convey our best wishes and respect to all of you who served so proudly on DD562.
"For all of us who served on our ships, the USS Robinson and USS Cony, we have a kinship. We are all shipmates and brothers of the fighting Fletcher Class Destroyers. For our proud and mighty warships, the DD508 and the DD562, they were sisters. It is fitting that, as sisters, they were buried at sea less than 270 miles apart. They served our Country well, and gave all that they could give. The Cony was hit by bombs while serving in the Pacific in WWII and as a result lost several of her crew, but she was tough enough to survive. The Robbie was more fortunate to escape unscathed, but the crew certainly felt the pain of losing so many shipmate brothers on all of the ships that suffered casualties.
"For you, the shipmates of DD562, most of you were young men when you called the Robbie your home. When any of you think back and replay all of the things that you observed while on board, you were looking through those young men's eyes. In that sense, doesn't that make all of you Robbie shipmates the same age? Maybe it is only me that thinks that way, but it's my right to think and say whatever I want. After all, wasn't that one of the purposes of all of us in serving our Country? God bless you USS Robinson crew mates. Enjoy your time together, and may you be fortunate enough to share many more reunions together."
The reaction of the banqueters was awesome, as recorded here in an e-mail to Roger Rieman from Dave Miller:
"It was a magical moment - a golden moment - when Dick Bonheim stood before the assembled shipmates, first mates and guests, at our San Antonio reunion, and read your glowing tribute to us of the Robbie from you of the Cony. What memories it stirred within those of us who sailed and fought side-by-side with the Cony! Dead silence, then loud applause followed the reading.
"The Robbie was a 'new kid on the block' when she teamed up with the Cony to sink that submarine near Saipan 14-15 June 1944. I was an even 'newer kid on the block', arriving aboard the next spring. It seemed to me that wherever we went, whatever we did, from then on to the end of WWII was in company with her. Truly, we were Sister Ships. Your contribution to our gathering will be remembered and appreciated for as long as memory lives. We of the Robbie salute you and thank you from the bottoms of our hearts."
Following the Cony tribute, Dick went on with a poetic list of all the "What Ifs" that could easily have derailed the First Blood project. Examples: "What if I never met Curt Castleman? What if Curt had not done it his way? The list went on, and soon we listeners found ourselves responding in concert "He/she did it his/her way"" at pauses in the delivery. Referring to the Robbie's preplanned funeral in the Caribbean, Dick noted that, in resisting a Harpoon missile attack by the cruiser Texas, and resisting a barrage of deck gun hits for a long time, the Robbie went to her grave "Her way"! This ended a most inspirational experience.
Banquet Time
An inspired and hungry crowd was ready for dinner: London broil with mushroom sauce, baked chicken with herbs Provencal, and sourdough and lemon pepper crusted cod were on the dinner menu, and all were outstanding. Desert was either cheese or carrot cake. All in all, a great meal for a great crew.
After dinner we enjoyed a lively traditional raffle, thanks to the hard work of Mary Ellen Ernsberger and Eleanor Schureman. The prizes, which were both numerous and exciting, were distributed by Don Wieser and Jim Ernsberger. We appreciate the contributions of many of our own flock, as well as Tin Can Sailors, for generous contributions.
The National Museum of the Pacific War
Sunday we were off by bus to Fredericksburg, Texas, hometown of Admiral Chester Nimitz, and the remarkable museum telling the stories of the Pacific War of 1941 to 1945. Since the Robbie was a major participant in this war, we wondered if we would not find some mention of our shipmate Elmo Zumwalt therein. Elmo, you may know, graduated from Lieutenant all the way to Admiral and Chief of Naval Operations after leaving tour ship at Shanghai in 1945. Alas, there apparently is no such mention, mainly because the Museum is dedicated almost solely to the War years.
This museum has acres of fascinating displays. Of special note are the full-scale replications of island sites and shipboard mockups that remind the Pacific veterans of where they were and what they did back in WWII times. Five times a year, the museum stages an "Island Assault: 1944". We, unfortunately, were 'out of sync', and so had to think of future visits. But even so, this visit will be long remembered.
Conclusion
This reunion was a joy to attend. We had lots of fun together, doing more things in more places than is easy to describe. We hope you are left with the thought that more good times lie ahead, in Branson in September, so we hope to see you there and then.
---