Year 2011 Reunion – Our 31st
Myrtle Beach, South Carolina
September 15-18 2011
Landmark Resort Hotel
1501 South Ocean Boulevard
Myrtle Beach, SC 29577
Tel 1-800-845-0658
1-843-448-9441

Contact: To register interest in attending, contact:
Art Bowne, Secretary
USS Robinson DD562, Inc.
Tel: (281) 474-0558
E-mail: ajbowne@comcast.net
Anyone desiring copies of our USS Robinson DD562, Inc.
exemption application and supporting documents for non-profit organizations, contact:

George Schureman,
24 Miles Road
Claymont, DE 19703
(302) 798-7111
---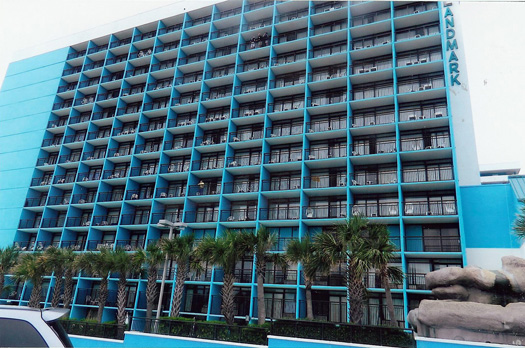 Year 2011 Reunion - Our 31st
What a great time! Our 31st reunion was a tremendous success, as usual. This year we met in Myrtle Beach, SC. With comfortable rooms, golf courses, restaurants, ocean front and poolside activities, this beach resort provided the perfect place for fun and relaxation for all who attended.
A well deserved thank you to our own George Schureman for making it happen. Also, thanks to the Landmark Resort Hotel and staff for their hospitality.
Pre-reunion Side Note
Just prior to the reunion, on September 11, Art and Judy Bowne were in Charleston, South Carolina. While there, they visited Patriot's Point and toured the USS Yorktown. Art called it a "glorious vessel" and said that it was a fantastic tour. Little did they know things were about to get even more interesting. This was, as you know, the 10th anniversary of the unforgettable Twin Towers devastation. The day America declared war on Terrorism. When Art and Judy disembarked the USS Yorktown, Art was interviewed by Haley Hernandez, reporter for NBC News, Charleston, for "Remembering 9-11-01". Part of the interview was broadcast that evening on the 11 o'clock news. Haley forwarded a website link of this to Tom Clegg who sent this on to our shipmates and friends. For those who did not see the interview, Art concluded with "Don't screw with the USA!"

Thursday
Most of our attendees began arriving on Thursday. We began registration in our Hospitality Room - The Coquina Room - at 0900 and continued into the evening. What a great day it was, meeting once again with our old friends and shipmates. Handshakes and hugs were plentiful.
Friday
Friday saw more registrations. Our day was spent well with shopping, sightseeing and just good old fun. The Board of Directors and Officers took time out to take care of business.
We had a knee-slapping good time at the Carolina Opry, watching Calvin Gilmore's production of the musical "Good Vibrations". Prior to the show beginning, the USS Robinson gang was asked to stand and be recognized. "Good Vibrations" was a 90 minute musical tour of the greatest hits from the 60's, 70's and 80's. It was like being transported back in time. We laughed, we clapped, we sang. What a night! The show ended with an especially moving patriotic tribute to the military.
Gals of the Robbie
The "Gals of the Robbie" met at 8 am on Saturday. No sleeping in for these gals. Peggy Clegg and Patsy Smith led the meeting with Sue West keeping everyone in line.
The Gals welcomed newcomers Faye Hurlocker (baby sister of Maye Tomkinson), Vicki Kemp (wife of virgin Ron Kemp) and Peggy Kuhn (daughter of master logger Roger Mustard).
The ladies displayed their decorated caps and/or visors for judging.
And the winners were:
1st Place - Vicki Kemp (Way to go New Gal!)
2nd Place (Tie) - Judy Bowne and Mary Ellen Ernsberger
Delicious looking recipes were exchanged. It was decided that next year in Nashville, Tennessee, we will have "Christmas in September". Each lady is asked to bring a handmade or decorated Christmas ornament. We are to wear our favorite Christmas shirt, jacket or vest. It is also requested that everyone bring their favorite recipes to share (40 - 50 copies).
Saturday
At Saturday's Crew Meeting, George Schureman announced that he was stepping down from the position of Treasurer and Site Locator, positions he held for almost 10 years. We want to thank George for his many years of great service to our crew. At the meeting, the Crew of the USS Robinson gave George a resounding standing ovation! His duties are being passed on to Charles Smith. Thank you George and Charles!
Banquet Highlights
We assembled in the Grand Strand Ballroom for our annual banquet. Art Bowne emceed the event, with Cliff Robertson, son of Fred and Lois Robertson delivering the invocation.
Table of the Fallen Shipmate
The traditional reading of the Fallen Shipmate plaque followed, with each fallen shipmate's name being announced.
In memory of each and every shipmate who served aboard the USS Robinson DD562
who could not be with us tonight because of joining the "Greatest Admiral" of all, our God in Heaven.

The single place-setting has you join us,
Both in Memory and Spirit, and reminds us
Of sharing your Treasured Company.
The single rose signifies the Love,
Dedication, and Call to Duty for having
Served the Best Nation in the World.
Your shipmates Miss You, Thank You, and Salute You and Your Family.
Rest in Peace.
During our evening's festivities, couples were recognized for their longevity in marriage. Wow! We have a lot of couples that have been together for many, many years. We had 2 couples in attendance that have been married for over 60 years: Fred and Lois Robertson, and Maurice and Mary Johnson. Way to go!
We played games, talked about our next reunion, and raffled some great prizes. The evening didn't end in the hospitality room until after midnight for some.
Sunday
On Sunday morning we headed to Murrell's Inlet, where Captain Dick took us on a saltwater marsh adventure. Our guide, a former marine, explained the variety of sea life captured and how it fit with our ecology. Just like a WWII landing craft, we drove right up onto a sandy beach, where we searched for shells. There were many to be found. This was a nice way to spend Sunday morning.
Can you believe it?
Jim Tomkinson just recently found out that he made the rank of QM3. Imagine that after all these years!
---
In Attendance
Even with some last minute cancellations, we had 73 in attendance this year. If you didn't make it, you were missed. We had a great time!
First Timers
We were honored to have "First Timers" Ron Kemp and his wife Vicki, Bill Lyle and his wife Kathy, and Jim Tidwell with his wife Pauline. Also attending for their first time were Peggy Kuhn and Faye Hurlocker.
The shipmates, first mates and guest who attended this 31st Annual Reunion are:
Art & Judy Bowne
Bud & Betty Carlson
Tom & Peggy Clegg & Dorothy Yates
Vern & Marge Compton
Jim & Mary Ellen Ernsberger
Gene Ferguson
Millie Gelmini
Jerry & Sharon Harshbarger
Don Hendrick & Jean Hollis
Dot Kiker & Faye Hurlocker
Maurice & Mary Johnson
Ron & Joanne Kaiser
Ron & Vicki Kemp

Junior Mustard & Peggy Kuhn
John & Karen Lucas
Bill & Kathy Lyle
Russ Maggio
Pete & Margie Masella & Phyllis Kaczor
Spencer & Carolyn Meade
Hal & Gloria Mullen
Bill Murphy & Joan Patten
Frank & Mary Pitts
Ray & Renee Querey
Cliff & Kim Robertson
Craig & Kathy Robertson & Kellie Arthur


Fred & Lois Robertson
George & Eleanor Schureman
Fred & Joyce & Sue Souba
Richard & Marian Sprague
James & Pauline Tidwell
Charles & Patsy Smith
Jim & Maye Tomkinson
Bob & Virginia Welsh
Luke & Sue West
Don & Connie Wieser
Tom Womble
Walter Vereecke
WWII Crew
Fred Robertson, Maurice Johnson, James Tidwell, William Murphy, Don Hendrick
Korea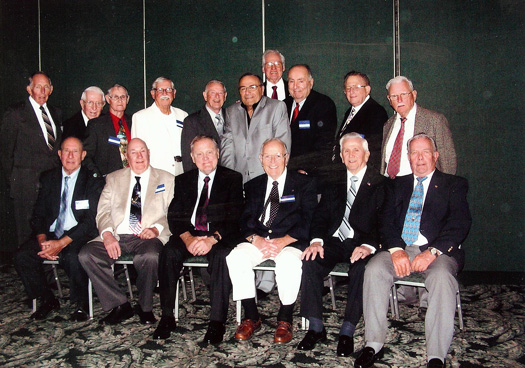 Front Row: Luke West, Tom Clegg, Ray Querey, Don Hendrick, George Schureman, Bud Carlson
Second Row: Bob Welsh, Gene Ferguson, Tom Womble, Jim Tidwell, Jim Ernsberger, Russ Maggio, Pete Masella, Fred Souba,Walter Vereecke
Third Row: Art Bowne
Post-Korea Crew
Back Row: Jerry Harshbarger, Ron Kemp, Don Wieser, Charles Smith, John Lucas, Vern Compton, Ron Kaiser, William Lyle, Richard Sprague,
Front Row: Frank Pitts, Hal Mullen, Jim Tomkinson, Spencer Meade, Junior Mustard, William Murphy