Year 2008 Reunion – Our 28th
Boston, MassachusettsSeptember 11-14, 2008
Contact:
Art Bowne, Secretary
USS Robinson DD562, Inc.
Tel: (281) 474-0558
E-mail: ajbowne@yahoo.com
Anyone desiring copies of our USS Robinson DD562, Inc.
exemption application and supporting documents for non-profit organizations, contact:

George Schureman,
24 Miles Road
Claymont, DE 19703
(302) 798-7111
---
Year 2008 Reunion – Our 28th
Boston, Massachusetts
Crews of Robbie, gathered 'round,
On this very hallowed ground,
Near their honored sister ship,
Old Ironsides, within her slip,
There her praises to resound.
Friday was USS Constitution (aka Old Ironsides) Day. Our guide, SN Andrew Lewis, welcomed us aboard and showed us through the three deck levels. Beneath the main are the gun, spar and crew decks, each of lesser head room than the last. This was no place for 6+ footers!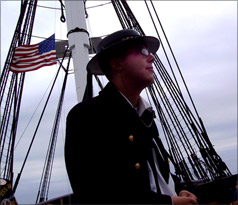 Launched in Boston in 1797, she is the oldest in-commission floating warship in the whole world. She gained her fame - and knick-name - in the War of 1812 when enemy cannonballs were seen to bounce harmlessly off her thick oaken hull. Never defeated, she was close to being scrapped in 1830 when a young medical student named Oliver Wendell Holmes wrote a stirring poem, "Old Ironsides", which helped in her refitting and preservation. Still afloat, and seaworthy after 212 years, she has made a number of trips outside Boston Harbor. In 1997 – her 200th birthday, she was towed to Marblehead, then set loose on her own, headed south. She was clocked at 7 knots flying just 6 sails
Some Robbie sailors are said to have wished they were aboard for that thrilling ride. Those of us who may have harbored thoughts of 'sneaking her out' for a midnight sail, soon faced seven good reasons not to do so.

Referring to Old Ironsides as a 'sister ship' is a bit of a generational stretch, justified only on a poetic-license basis. 'Great-grandmother barque' would have been more accurate.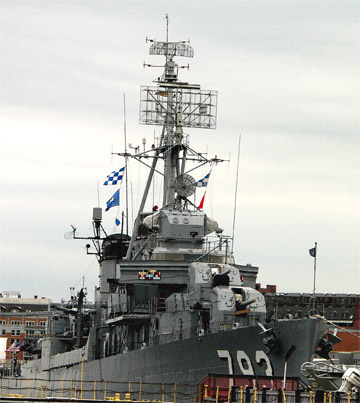 But wait – what's that warship docked just a hundred yards away? Why it's the USS Cassin Young, DD793, like the Robbie, a Fletcher Class WW2 destroyer! Now there is truly a sister ship. She also earned her keep in the South Pacific during WWII. She is named after a Navy captain who earned the Medal of Honor for actions at Pearl Harbor, but later lost his life in the Battle of Guadalcanal.
After a dockyard lunch, we visited the USS Cassin Young, DD 793. This was a poignant time for all crew members and companions. For many this was a visit to a long ago home away from home. Comments such as "Here is where I was stationed during GQ", "That was my bunk", "This is CIC", and "That is a binnacle", were heard throughout the visit. Our 'Gals of Robbie' and guests were impressed. At 1400 we assembled on the fantail for a memorial service.
After a playing of taps, shipmate Charles Smith delivered this tribute:
This memorial time is a time for us to pause and remember our shipmates, especially those no longer with us. Not only do we honor shipmates of the Robinson but also those of the Cassin Young who served with the Robinson in the climactic Battle of Leyte Gulf.

As I walked through the cemeteries along the Freedom Trail and saw grave markers of our early Patriots, I was forced to remember that they were the first to answer the call to secure our freedom and privileges. Also, as part of the Freedom Trail is a memorial constructed of Dog Tags of fallen heroes who have paid the ultimate price in serving our present freedom in the war of Iraq and Afghanistan.

Whether we visit a cemetery of neatly lined markers, a private cemetery with service markers, see a person in military uniform, pass a person with a cap signifying their service or attending a reunion, we should always remember to say "thank you" for your part in securing the privileges and freedom we all enjoy today.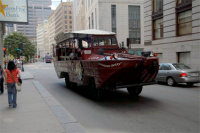 Speaking of Freedom Trail, we learned that it is a 2.5 mile long, mostly red-brick, walk, from Boston Commons to Bunker Hill Monument with many historical stops along the way, including Old Ironsides. Walking the Trail was not part of our program, but a DUKW tour of many of the trail sites - and more – was. What, you may ask, is a DUKW? It is a 32-passenger boat fitted with tired wheels, allowing it to travel on water or land. Built during WW2 by General Motors, these amphibian vehicles were used in land invasions during that war. Put a loquacious driver in charge and you have the perfect way to cruise and explore the tangled streets of Boston - and the Charles River basin.
That is exactly what we did on Sunday morning. We were shown JFK's apartment, Paul Revere's house and route, Faneuil Hall, Old North Church, Ben Franklin's statue, Durgan Park and many historic buildings. Then, all of a sudden, we were afloat!Tooling around in the Charles River Basin, we got a good look at the newest bridge – a huge, cable-stayed beauty, said to belong to the "Big Dig". And we thought the Big Dig was all underground! This was the 'Big Rig'. Off in the direction of Cambridge we could just barely make out the campus of MIT, alma mater to several Robbie mates. Downstream is the dam that guarantees the basin, and near it we waddled ashore to end a most enjoyable interlude.
Saturday was Revolutionary War Day. We climbed on our bus and set off. First stop, Bunker Hill Monument. Here, on 17 June 1775, was the first major conflict between British and Patriot forces of the Revolution. In front of the huge obelisk is a statue of Col. William Prescott, well known for issuing the order: "Don't shoot until you see the whites of their eyes". Then it was off to Lexington, and its very fine Revolution Museum. This was where the Brits thought they might find the munitions cache they were after – but no luck! The Patriots had learned of the Red Coats plans and had hidden the munitions elsewhere. Most of the town's patriots had left to regroup at Concord.
Just as did the Brits, we too headed for Concord. There, at Old North Bridge over the Concord River, we listened to the story of the "shot heard around the world" told by a most enthusiastic and informative young lady park ranger. This was the time – 19 April 1775 – and place where the Minute Men had their 'enough already' moment and proceeded to drive the outnumbered Red Coats back toward Boston. Listening to the story as told by the young lady was both inspiring and emotional.
Visit to Concord over, we re-boarded our bus and headed back to our Boston base. On the way, we paused for lunch at Hansom Air Force Base Officer's Club. This base houses the Air Force's Electronic Systems Command. Details were not available. Long before we arrived on the scene, our names had been made available to the base command, and had likely been compared to known terrorist lists. But the lunch was a delight. Then it was back to our home – Charlestown's Constitution Inn.


Saturday morning, while the crew members held their traditional business meeting, the Gals of the Robbie held their "Best Decorated Apron" contest, and voted on the winners in several categories. As the Gals marched in to the meeting room sporting their decorated aprons, their were oohs and ahhhs as the spectators eyed the remarkably modified aprons – some with flashing lights, patriotic motifs, fancy embroidery and very imaginative designs. These contests were the idea of Peggy Clegg, and she deserves applause for dreaming up the various contests, and then bringing them on. Thanks, Peggy!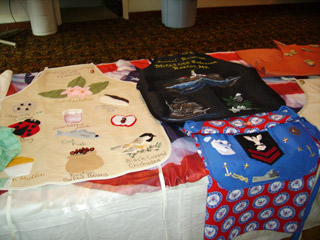 Aside from the apron contest, Patsy Smith put on display the quilt she had made of the many individual patches designed by all the Gals a year earlier at the Branson Reunion. A beautiful job indeed! It was put on a display table, along with many of the contest aprons, for all to enjoy.
This was a Reunion par excellence! What made it so? I'd say "Three Guys and 3 Gals. The Gals: Peggy Clegg, Patsy Smith and Eleanor Schureman. The Guys – visible in the photo – Bill Murphy (Host), George Schureman (Treasurer) and Art Bowne (Secretary). We are indeed blessed to have such a great team! But here are more – many more. Everyone attending, inspired by our leaders, came together as happy to be there as any family.

---
Robbie Photo Captions
Post-Korean War Crew
L to R Front: James Tomkinson, Victor Stone, Don Griffiths, William Murphy,
Hal Mullen, Bill Donahue
Back: Carl Slack, Wesley Shanholtzer, Charles Allen, Jerry Harshbarger,
Ron Kaiser, John Lucas, Charles Smith
Korean War Crew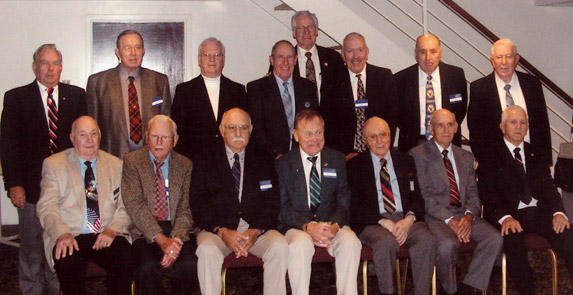 L to R Front: Tom Clegg, Walter Vereecke, Joe Sabatini, Ray Querey,
Joe Mariana, Norm Hebert, George Schureman
Back: Bud Carlson, Bobbie Boyd, Dave Wilkinson, Luke West, Bob Ferguson,
Pete Masella, Gene Ferguson
Way back: Art Bowne
World War II Crew
L to R: Fred Robertson, Dave Miller, Maurice Johnson, Ralph Moore