1999 Robinson Reunion Memories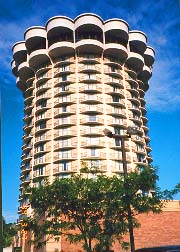 Glorious Fall weather, and friendly natives, blessed our 19th Robinson reunion at Covington's Clarion Riverview Hotel this last September. Our hospitality room, on the 16th deck of the Clarion, commanded an awesome view of the surrounding hills, the Ohio River, and the City of Cincinnati gracing its far shore. At night, the colored lights of Cincinnati, augmented by the brilliant stars overhead, cast a spell on balcony visitors enjoying a break from the serious business of fraternizing and rehashing shared experiences of long ago and far away.
Down the block and across the street from our hotel was the 8-block area set apart for the traditional Covington Oktoberfest (who ever heard of a Septemberfest?). There we reveled in 'brats' and 'kraut', beer and 'oom-pah', arts and krafts, imagining ourselves as carefree burghers von der Vaterland.
Some of us boarded a bus for a brief tour of Covington on the way to a brand new attraction in town - a world class aquarium. Along the way, we passed a long row of glorious old Victorian mansions hugging the south bank of the mighty Ohio River. Well preserved, these 19th century homes, we were told, were built by and for the old riverboat captains. That gave us sailors something to think about. 'They' don't revere or quarter nautical folks that way any more, alas!!
Attending the reunion were 51 crew members, accompanied by 46 'first mates' and guests. The crewmen:
Meredith Anderson
Eldon Bartlett
Joe Beard
Buck Bedford
Art Bowne
George Breeden
Ray Burras
Bud Carlson
Jim Chmielewski
John Conroy
Bill Creed
Bill Donahue
Bill Douras
Jim Ernsberger
Don Fahlberg
Bob Ferguson
Gene Ferguson

George Flege
Dick Gruny
Jerry Harshbarger
Don Hendrick
Bud Henry
Frank Hurley
Maurice Johnson
Ken Kuzenski
Joe Mariana
Pete Masella
Dave Miller
Ralph Moore
Junior Mustard
Roger Mustard
John Nash
Ray Querey
Cletis Reed

Buck Reynolds
Fred Robertson
Wilbur Rose
Bernie Schreiber
George Schureman
Frank Schwerin
Stan Seaman
Al Shippling
Nelson Snapp
Fred Souba
Ted Szczepkowski
Rich Tinker
Jim Tomkinson
Walt Vereecke
Tom Wilks
Howard Wise
Tom Womble


The sailors are, left to right, Frank Schwerin, Jim Tompkinson and
Fred Souba, and first mates Maye Tompkinson, Joanne Schwerin, and
Joyce Souba.

The new Covington Aquarium is quite a showplace, ranking among the best of the big-city aquaria. Among its wonders are several huge murals. We show one in the adjacent photograph, now dubbed "The Great Fisherman in the Sky Shows off his Catch: Three Robbie Sailors and First Mates". The strangest fish of all were homo-finnius - wet-suit clad, scuba-breathing workers, putting the finishing touches on several of the filled show tanks.
Sea and war stories were retold and reinvigorated in our well-stocked hospitality room. Joe Hildabranski shared with us a VCR tape showing the Robbie in very rough seas heading for Japan. We wondered that our 'Little Robbie' was able to bring us through that frightfuladventure unscathed. Some recalled the several dogs (of the canine species) we had aboard, especially Pearl. Others remembered those fantail movies, populated by the likes of Alan Ladd, Jack Palance and Jean Arthur.
The Saturday evening banquet was well attended, and enjoyed. After dinner, our traditional raffle was held in the hospitality room. Top prize - repayment of reunion and hotel expenses - was won by Dick Gruny. Many shipmates donated prizes, some of them products of their own, or their mate's, labors. All were appreciated.
At our crew meeting we paused in remembrance of Vic Forys, Robbie's first engineering officer and a lifelong Navy booster. Vic died 17 November 1998, at the age of 84, of a stroke with complications. Our sympathy goes to his wife Ruth and their family.
The assembled crewmen also recognized those who brought the reunion into being, and those who created and nurtured our "RobbieSite" on the World Wide Web.
---
1998 Robinson Reunion Memories
Reunion attendees enjoyed side trips to Long Beach to see the Queen Mary, Capistrano to see the mission, and the many places visited by the San Diego trolley. Our planned tour to the Navy Base was voided by an edict placing military bases on special alert for terrorists, so we enjoyed a bus tour of San Diego and vicinity in its place.
Our bus stopped for lunch at the Bali Hai Restaurant on Harbor Island, a delightful spot with wide-angle views of San Diego Bay and Harbor. Continuing on to Coronado, we stopped along the beach for a "sandbox break", then on to Sea Park Village where Jerry Lewis' yacht was docked. (Is Art Bownes' new boat THAT big?)
Speaking of Art Bowne, did you see him dancing with one of the "senior" women? There was a New Orleans type band in this gazebo in one section of Sea Park Village where several "senior" ladies, dressed as flappers, were dancing/marching around to the tune of "good ole New Orleans" type music. The next thing we saw was one of those women out there on the pavement dancing with Art. Well, Art looked like a centipede, with those legs going every which way. Another "flapper" got Bob Ferguson, and around the gazebo they went. Bob had a lot of explaining to do about that woman. We reluctantly reboarded the bus to reurn to our hotel.
The Saturday evening banquet began with a prayer by George Breeden, and concluded with a surprise. We were entertained by the award-winning Sweet Adelines of San Diego. They favored us with their harmonius renditions of several old, and a few new songs - an outstanding performance.

Tex Anders (left) recalls the days of the Yangtze "River Rats" with Ray Querey (center) and Art Bowne (right) at the 1998 Reunion in San Diego.

Thanks to Rich and Jerrie Johns for planning this event. Jerrie, incidentally, is a Sweet Adeline in her home state - Texas.

A special guest joined us this year, Commander Arthur (Tex) Anders, USN (Ret). He was introduced by his good friend Dave Miller, who explained why Tex felt an allegiance with the Robinson. Click here to read why.

We owe the success of our reunion to the hard work of the few individuals who dedicated their time and talents to its service. Aside from those already mentioned we thank: Fred and Lois Robertson for stocking and manning the hospitality room, the Allens, Ernsbergers, Fergusons, Grunys, Robertsons, Schuremans, Schwerins, and Tinkers for donating raffle gifts, and, last but far from least, our tireless board members and officers: Rich Gruny, Don Fahlberg, Rich Tinker, Ralph Moore, George Schureman, Bob Ferguson and Ray Querey.

Fifty two crew members attended, four for the first time: