Year 2018 Reunion – Our 38th
Our 38th Reunion
Lafayette, LA
September 13-16, 2018
Contact: To register interest in attending, contact:
Art Bowne, Secretary
USS Robinson DD562, Inc.
Tel: (281) 474-0558
E-mail: ajbowne@yahoo.com
Anyone desiring copies of our USS Robinson DD562, Inc.
exemption application and supporting documents for non-profit organizations, contact:

Charles Smith
1087 Briar Patch Rd.
Broussard, LA 70518-8022
Tel: (337) 367-0705
2018 Robbie Reunion
Our 38th Annual USS ROBINSON DD562 Reunion was held in Lafayette, Louisiana, September 13-16th, 2018. Our accommodations were at the Homestead Suites Hilton in Lafayette. Charles and Patsy Smith were instrumental in locating this suitable venue.
This year's reunion attendance was hammered by 11th hour cancelations, primarily for healthrelated reasons. An anticipated 51 attendees were reduced to an enthusiastic 43. We missed seeing and sharing the 'good times' with so many. Conspicuously 'missing in action' were Jim and Maye Tompkinson who would have attended their 30th consecutive reunion! However we were elated to have Bob and Elaine Ferguson rejoin us after lengthy and ongoing set-backs. Welcome back, Ed Frame! It was a sheer joy to share time with the Boaen family, the Clegg family, the Smith family and, of course our 'regulars.'
Joining our 38th reunion in Cajun Country were the following:
Art Bowne Everette Boaen and (Ronald & Ronnie Boaen, Sally Boaen & Shawn Boaen)
Tom & Peggy Clegg and (Keith & Cathy Robison & Linda Zimmerman)
Vern & Marge Compton Jim & Mary Ellen Ernsberger and (Stephen Swank)
Perrin Farrar and (Betty Jost & Hannah Plummer)
Robert & Elaine Ferguson Ed Frame & Barbara Burnell Elvin & Mary Guillory
Jerry & Sharon Harshbarger Don Loder Spencer & Carolyn Meade
George & Eleanor Schureman Jeri Schwerin & Carolyn Schwerin Luehmann
Charles & Patsy Smith and (Danny & Karla Williams, Jacob Williams & Maddie Coleman)
Walter Vereecke Don & Connie Wieser


Patsy gives Stephen the go-ahead to eat at the Cajun feast. Jim is waiting his turn.
Thursday was the initial registration day. Attendees gathered at the Hospitality Room for greetings, registration and enjoying snacks and beverages. We all soon gathered to car-pool to the home of Charles and Patsy Smith for a real Cajun Feast. The Smiths welcomed us to their home to indulge in an outstanding variety of delicious Cajun cuisine – all home cooked by the Smiths and Elvin & Mary Guillory. The meal and time spent together proved to be an outstanding time of fellowship.

Carolyn L., Linda, Art and Sharon
listen to our guide Shane Bernard
in the Tabasco Museum.
Friday's tour took us by bus to Avery Island and introduced to us the Avery Island Experience and the McIlhenny contribution to conservation of plant and wildlife. Our guide, Dr. Shane Bernard, Historian, offered insight to both the pepper sauce production and the nuances of the natural habitat of the island.
Much of the world knows about TABASCO pepper sauce made for over 125 years on Avery Island, LA. We visited the production and storage sites and marveled at the 'stacking' of the salt-laden wooden casks containing pepper sauce. The spectacular Jungle Gardens tour offered first -hand sightings of Timber Bamboo (growing a foot or more a day!), Camellias, Palm Garden, the Wisteria Arch, Southern Live Oaks, the Holly Arch, the Sunken Garden and much more.
The group gathers outside the museum.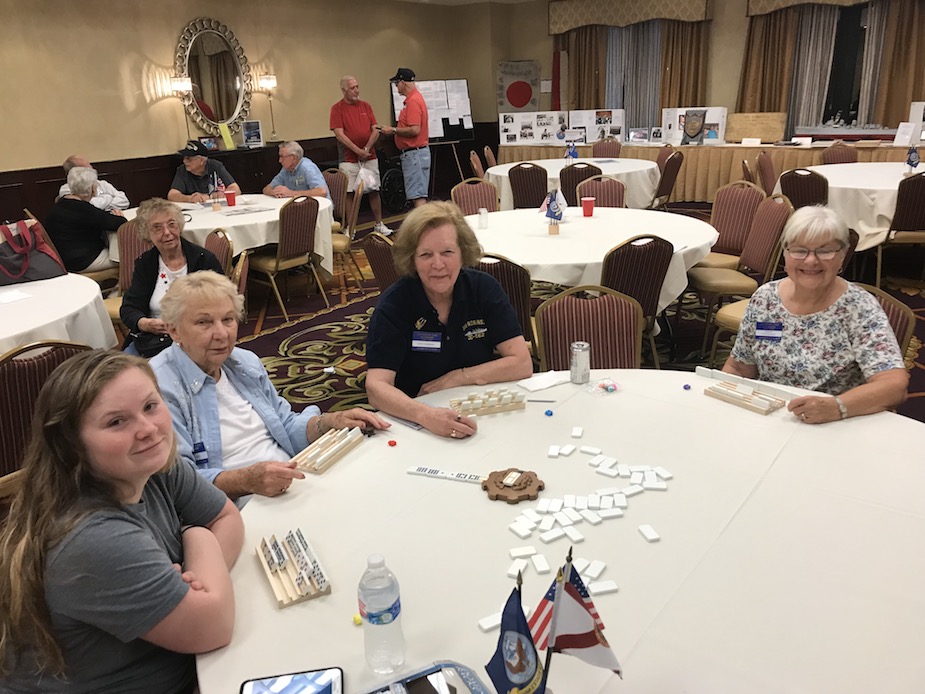 Friday Hospitality Room - Hannah, Betty, Carolyn M. and Sharon get the obligatory Mexican Train game started.
A hearty lunch (many varieties of TABASCO included!) was had by all at the island's restaurant (circa 1868), as well as time to shop in the Country Store offering everything TABASCO! The return bus ride from Avery Island took us through scenic parts of New Iberia and on through St. Martinsville, site of the historic St. Martin de Tours Catholic church and the Evangeline Oak, named so as a result of Henry Wadsworth Longfellow's poem "Evangeline: A tale of Acadie."

*** BOARD MEETING ***
The Board of Directors Meeting was held on Friday at 1600 hours. In attendance were directors Jim Ernsberger, George Schureman, Tom Clegg and Jerry Harshbarger. The Secretary and Treasurer, Art Bowne and Charles Smith, respectively, were also present. The terms for Jim Ernsberger and Jerry Harshbarger were to expire. Both Jim and Jerry expressed their willingness to serve again, and with no other nominations, they were formally re-elected. The Board appointments remained the same; Treasurer, Charles Smith – Secretary, Art Bowne – Parliamentarian, Pete Masella – Historian, Walter Vereecke – Master-At-Arms, Luke West. Attempting to 'streamline' the Master Active Roster, Charles, Jerry, Tom and Art are contacting those we haven't heard from in many, many years. The purpose of this is to encourage their attendance, to encourage an occasional donation and to see if they wish to remain with us, – and if so, how they wish to receive the newsletters. We promote and encourage via e-mail!

*** CREW MEETING ***
Saturday morning the secretary called the Crew's Meeting to order at 0800 hours. Following the Pledge of Allegiance, a moment of silence for our recently Fallen Shipmates, whose names were read, was observed. Also remembered were Shipmates known to be in harm's way and fallen First Mates.
Recognition, thanks and a round of applause was directed to Shipmates and First Mates who work behind the scenes toward the continued success of our organization.
Discussion then focused on a dramatic element of our reunions to date. That element was memorabilia. For many years, large (and heavy) items were transported to the reunion sites by Walter Vereecke, George Schureman, Charlie Smith and Art Bowne. The cost of shipping these items has become prohibitive. The task of handling these treasures is now overbearing since the shipmates, aforementioned, are not into the Charles Atlas weight lifting program anymore. The Board previously suggested looking into Military Museums that might house and display these items (especially the ships' model and WWII and Korea plaques. As of the time of this writing, Tom Clegg and Charlie Smith have actively pursued a worthy home for the above. When finalized, we will let the crew know of their new location. The absence of these significant items will certainly change the aura of our memorabilia display.
Reunion Site for 2020
The nominated and voted site for 2020 is Duluth, Minnesota (Jeri Schwerin). Dates to be determined.
*** LADIES' MEETING ***
The 'Ladies of the Robbie' met on Saturday at 0800 hours . We gave a warm welcome to newcomer Barbara Burnell. The ladies decided to offset the expense of the 'hand' -made quilt created by Patsy. Money was collected and donated to the Robbie Fund to help defray the cost of printing and postage for the newsletter. The quilt of 'many hands' was subsequently raffled off later that evening.
Next year's Ladies Project will be another Patsy Quilt creation! Patsy requested the ladies to mail a cotton or cotton-polyester blend, T-shirt that they like (size medium or larger) to her by April 1, 2019! Any design on front and/or back, any color! T's only, no sweatshirts.

Reminder: A closed group page (USS Robinson DD562) has been set up on Facebook. If interested, go to the site on Facebook and request membership. Membership is limited to Veterans, spouses and families of the Robbie. You may post pictures, information and/or stories. Contact Patsy Smith if you have any questions regarding this activity.
Our guides Clive and Louise were very knowledgeable about everything swamp!
This alligator was happy to find marshmallows so close.
Saturday Swamp Tour - Awaiting to embark on the
Atchafalaya Princess for an exciting tour of the swamp.
Saturday morning meetings were condensed to accommodate loading the bus for the Swamp Tour. We arrived at McGee's Landing at the Henderson/Atchafalaya Swamp and we were greeted by our Cajun guides, talkative Clive and busy Louise. We boarded the site-seeing boat and for the next 90 minutes thoroughly enjoyed exploration of the diverse natural beauty and rich ecological systems of America's largest and most complex ecosystem. We were literally 'up close and personal' with the many facets of the swamp, the moss-draped cypress trees, graceful egrets perched just out of reach of lingering alligators and the many humorous stories and anecdotal witticisms as told by Clive, particularly of those 'Katzenjammer Kids' of Cajun country, Boudreaux and Thibodeau! Clive, a lifelong native of the Louisiana swamp land, knew all the nooks and crannies of the swamp. Occasional sightings of distant 'gators' drew oohs and ahs from the passengers (solely our Robbie gang) but one could sense that, eventually, we would be getting closer to these live submariners. It was not long before Clive approached a quietly secluded cove and cut the engines. Louise then banged on the hull of the vessel, broadcast several handfuls of 'goodies' and before you knew it, alligators everywhere! Some were bolder than others and came right up to the hull of the boat. Snap, snap, snap – yes, both the gators and the cameras! Wow, what an experience!
*** BANQUET HIGHLIGHTS ***
Off to the beautifully decorated Lafayette Room for this evening's banquet. Following welcoming and introductory remarks by the MC, Chaplain Charles Smith delivered the invocation. Attention was drawn to The Table of the Fallen Shipmate and the traditional reading of the Fallen Shipmate plaque. Each fallen shipmate's name was then announced.
In memory of each and every shipmate who served aboard the USS Robinson DD562, who could not be
with us tonight because of joining the "Greatest Admiral" of all, our God in Heaven.
The single place-setting has you join us, both in Memory and Spirit,
and reminds us of sharing your Treasured Company.
The single rose signifies the Love, Dedication, and Call to Duty
for having served the Best Nation in the World.
Your shipmates Miss You, Thank You and Salute You and Your Family.
Rest In Peace.
"
Last Call

"
| | | |
| --- | --- | --- |
| MEREDITH ANDERSON WWII | | HALEY E. GREENFIELD WWII |
| HOMER C. CALVERT K | | DONALD T HARDING PK |
| NEWTON J FILYAW K | | DAVID W. SOMERS PK |
| EUGENE P. FERGUSON K | | DWAINE V. STEVENS WWII |
| GEORGE FRATTARA K | | |
Also remembered was the loss of first mates Annie (Chuck) Allen, Yvonne (Bob) Anderson, Annie (Eldon) Bartlett, Marie (Bill) Bataille, Linda (Everette) Boaen, Shirley (Ed) Frame, Sally (Ken) Kuzenski and Lillie (Junior) Mustard. In addition, our hearts go out to the Masella family after learning of the passing of Peter Masella, Jr.
Our sincerest condolences and prayers are extended to the families and friends of those listed above./p>
The Program, Continued
The MC recognized the site locator and hosts (Charlie and Patsy) and went on to announce the newly elected Board of Directors, Officers and appointed positions. He asked each of the following to stand and be recognized; Spencer and Carolyn Meade as our Robbie WebMasters, Tom Clegg continuing with the Robbie Net and both Tom and Peggy Clegg for remembering your special occasion with their 'sunshine' cards.
A round of applause was extended to Patsy Smith for her tireless efforts in setting the banquet atmosphere with decorations and hand-crafted table centerpieces.The group further applauded the efforts and Cajun culinary expertise of Charles & Patsy and Elvin & Mary Guillery for the fantastic Cajun Buffet Feast held at the Smith's home on Thursday.
This year's guests were introduced and enthusiastically applauded for sharing their time with us. It means more than you'll ever know to have family and friends join us in celebrating memories of years past.
*** THE 'CHOW LAMP' IS LIT ***
Slow Roasted Prime Rib au jus
Florentine Stuffed Chicken Breast
Cedar Plank Roasted Atlantic Salmon
all dinners served with
House Salad Roasted Corn Grits Applewood Bacon-wrapped Petite Beans
Dinner rolls, Butter, Water, Coffee, Tea
Choice of White Chocolate Bread Pudding or Cheesecake
Bon Appetite
*** AFTER DINNER ACTIVITIES ***
First, compliments to the food service and quality. "This had to be, by far, the tastiest and most generous portion of prime rib that I have experienced at our banquets!" – Art Bowne. Not to be undone, the other dinners received great compliments as well!
Patsy Smith reminded the ladies to adhere to the timeline for mailing T-shirts to allow enough time to complete the project. Another reminder, was given to check the 'Mailbag' in the Hospitality Room and to take pictures of some of the memorabilia that will no longer be displayed at our reunions./
The MC shared a list of 'things' entitled "Share the Stupidity!" So very stupid, yet, so very true! Add to this humor (?) the collection of unintelligent antics of Blonde Men ( a 'get even' tribute to the many stories told about blonde women!) Thanks to Dick Bonheim for sharing.
***
RAFFLE

***

Raffle time was conducted by Patsy Smith and Sharon Harshbarger, our Rafflettes Supreme. Congratulations to all winners and thanks to all the shipmates, first mates, friends and organizations for their very generous raffle donations. Thanks, too, for all of you who purchased raffle tickets to support this very rewarding event.

The 'Quilt of Many Hands' was won by Mary Guillory. Mary, knowing that Sue and Luke West had to cancel attending the reunion for medical reasons, was delighted to win, and absolutely loved the prize, said she wanted it sent to Sue & Luke as a 'get well-we love you-hurry back y'all' gesture. Peggy Clegg mailed the prize to the West home!

Group pictures rounded out the Banquet festivities...back to the Hospitality Room to complete a perfect evening!

Sunday Vermilionville Museum Tour - An authentic Cajun Guide shares the lifestyles on Acadiana from 1765-1890.
Sunday Vermilionville Museum Tour - Charles, Carolyn L. and Art listen to the violinist playing in a variety of styles depicting ethnic influences.
Sunday
Sunday morning arrived and, after a hearty breakfast, the group carpooled to the historical village of Vermilion Living History Museum and Folklife Park. Opened in 1990, the park, whose purpos is to preserve and interpret authentic elements of folklife culture – Acadian, Native Americans, Creole and African descent – located in the Attakapas area between 1765 and 1890. The celebration of these cultures includes language; music and dance; the performance of traditional arts; artifacts; landscaping; architecture; historic costuming; beliefs and customs; cuisine; and traditional holidays and festivals. The park sits on a 23-acre site on the banks of Bayou Vermilion with 19 attractions, including seven restored original homes with artisans that provide demonstrations on a variety of essential crafts performed by the early settlers.
Vermilionville Tour - Patsy and Art watch attentively to the quilting technique of an intricate creation.
Our group witnessed many of these restored homes. We had first hand listening enjoyment of violin music played in a variety of versions depicting the ethnic influences. A live demonstration of quilting was fascinating as was the visit to the many craft shops, e.g., blacksmith shop, woodworking shop, food processing sites and as much as we could possibly fit in over the several hours of our tour. This tour could well have consumed an entire day!
Memorabilia
Since making the needed decision to terminate the 'heavy and bulky' items from our display of memorabilia, we have added a 'light-weight' object that was donated by a friend, Hans Krebs, of Glen Spey, New York. Hans, himself a collector for many years, offered a WWII Japanese rising sun flag containing personal Japanese inscriptions. Art thankfully accepted this gift keeping in mind that this would 'replace' the one displayed at our reunions for many years but, mysteriously disappeared. Thank you, Hans!
A Sad Note
During the composing of this newsletter we learned from frequent reunion attendee Bud Carlson that Betty, his wife of 63 years, had passed away following a lengthy illness. We express our sincerest condolences to Bud, his family and friends. Our friendship with you and Betty has been absolutely priceless.
Finally, please e-mail Spencer & Carolyn Meade, our Robbie Web-Masters, at carspen2@msn.com with photos, comments and/or stories.
Also, notify Tom Clegg, Robbie Net facilitator, at tomcleg@yahoo.com, if you have a change of e-mail address or wish to be added to the list.
Looking forward to seeing you for our 39th Reunion, September 2019 in PEORIA, ILLINOIS
Calm Seas and Smooth Sailing!
GOD BLESS, LOOK OVER AND PROTECT OUR TROOPS, BRING THEM HOME SAFELY!
Korea Crew

Korea Crew
Seated, (L to R): Walter Vereecke, George Schureman, Bob Ferguson
Standing: Tom Clegg, Don Loder, Art Bowne
Not Pictured: Perrin Farrar

Post Korea Crew

Post Korea Crew
Seated: (L to R): Jim Ernsberger, Don Wieser, Elvin Guillory, Spencer Meade
Standing: Everette Boaen, Ed Frame, Jerry Harshbarger, Charles Smith, Vern Compton
Gals of the Robbie

Gals of the Robbie
Seated (L to R): Sharon Harshbarger, Marge Compton, Peggy Clegg, Eleanor Schureman
Standing: Mary Guillory, Connie Weiser, Carolyn Meade, Elaine Ferguson, Patsy Smith
Not Pictured: Mary Ellen Ernsberger
Guests of the Robbie

Guests of the Robbie
Seated (L to R): Jeri Schwerin, Barbara Burnell, Linda Zimmerman, Betty Jost,
Karla Williams, Maddie Coleman, Ronnie Boaen
Standing: Keith Robison, Cathy Robison, Sally Boaen, Hannah Plummer,
Carolyn Luehmann, Danny Williams, Jacob Williams, Ron Boaen, Shawn Boaen, Stephen Swank