Year 2013 Reunion – Our 33rd
Waterloo, Iowa
September 11 - 14, 2013
Contact: To register interest in attending, contact:
Art Bowne, Secretary
USS Robinson DD562, Inc.
Tel: (281) 474-0558
E-mail: ajbowne@yahoo.com
Anyone desiring copies of our USS Robinson DD562, Inc.
exemption application and supporting documents for non-profit organizations, contact:

Charles Smith
1087 Briar Patch Rd.
Broussard, LA 70518-8022
Tel: (337) 367-0705
---
Year 2013 Reunion - Our 33rd
Our 33rd reunion in Waterloo, IA was a great success! Thanks to The Ramada Hotel in downtown Waterloo for the special attention to every detail they provided during our stay.
Thank you to our hosts Paul Reuter and his first mate Louise for coordinating with Charlie Smith, and communicating with Lonnie Elmore of the Waterloo Convention and Visitors Bureau, for a fun-filled 4-day reunion.
Wednesday
Wednesday was the arrival day for most. We began with registration in our Hospitality Room – The Red River Corral Room at 0900 and continued through the evening hours. It was great to meet again with our old friends and shipmates.
On display this year were some significant new additions to our memorabilia display tables. A beautiful 4-foot replica of the Fletcher Class "Robbie" aka 'The Lucky Lady', was donated by Mildred Solis, widow of Manny Solis. This model is well-designed, well-constructed and of superior craftsmanship and it is a wonderful addition to our memorabilia!
A bronze 3-dimensional plaque depicting the USS Robinson's engagements in significant battles and operations in World War II was impressive. It was donated by Michael Rasche of Asheville, NC, when he discovered it in the basement of the home he recently purchased. He searched the internet, and came up with our contact information, and shipped the treasured plaque to us. Both of these items will travel to future reunions!
Thursday
After a hearty breakfast at the hotel, we started our full, busy and eventful day. First was a tour of the Sullivan Brothers Iowa Veterans Museum, a component of the Grout Museum of History and Science District, where we were greeted by Christy Decker, director of tour groups, who was very personable and informative. Featured here were many interactive exhibits showcasing the role of Iowans in the military and at home from the Civil War to Present conflicts. The five Sullivan Brothers from Waterloo, who died together in WWII, are featured with many family artifacts. Outside, in front of the museum, was an 8-foot statue of the 'Lone Sailor,' a perfect photo-op for all who appreciate this wonderful legacy. We enjoyed a delightful lunch in the lobby of the museum, and then some of us continued visiting the museum, while others did some touring of downtown Waterloo, or headed back to the Hospitality room to get ready for the evening's dinner buffet and play.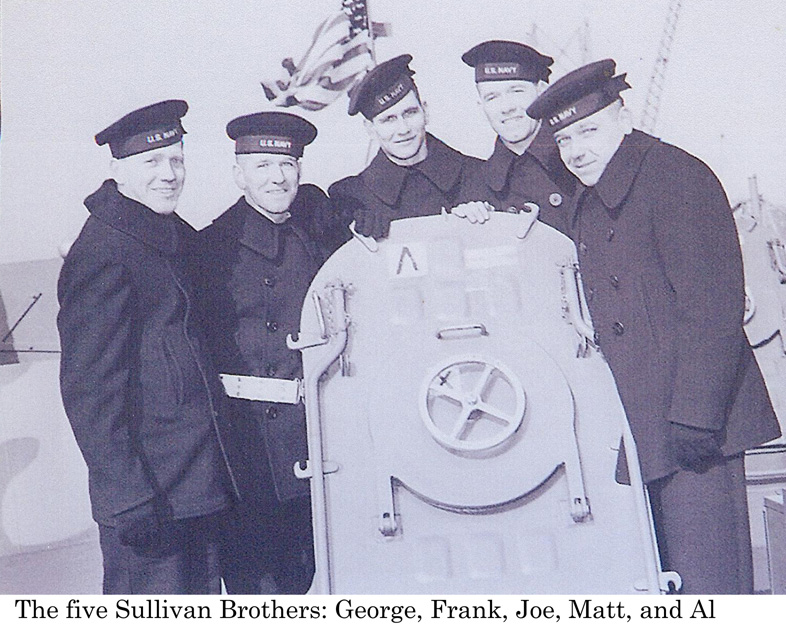 Connected to the Ramada Hotel via a skyway, is the Sullivan Brothers Convention Center, where we gathered for dinner in conjunction with the performance of "For Love or Money" an interactive murder mystery. We were the guests of Mrs. Getty "Luvie" von Trump a millionairess. She was a gracious hostess, but there was an aura that something was not quite right. She reached out to the audience for a suitable heir to her fortunes in case the premonition she had of her early demise should come to pass. Art Bowne, George Schureman and Cliff Robertson were selected as heirs-to-be. Alas, Luvie met her demise, and members of the audience became instant detectives. Eventually all Shipmates were cleared and the actual culprit was pinpointed!
BANQUET HIGHLIGHTS
We gathered in the Convention Center for our banquet. Art Bowne emceed the evening, and Craig Robertson, son of Fred and Lois Robertson delivered the invocation, and paid a loving tribute to his mother (our friend, Lois) who had recently passed away.
Before commencing with the Fallen Shipmate Ceremony, our thoughts and prayers reached out to the families and friends of Fred Robertson, Dick Gruny, Luke West, Ray Querey, Ken Kuzenski, R. Ferguson, M. "Andy" Anderson and all those facing health issues.
Dick Gruny was saluted for his selflessness and over 20 years of service to the USS Robinson's reunions and organization. LT Dick Gruny was certainly an "impact" player!
Table of the Fallen Shipmate
Attention was given to The Table of the Fallen Shipmate, and the traditional reading of the Fallen Shipmate plaque was read. Then each fallen shipmate's name was announced.
In memory of each and every shipmate who served aboard the USS Robinson DD562, who could not be with us tonight because of joining the "Greatest Admiral" of all, our God in Heaven.
The single place-setting has you join us,
Both in Memory and Spirit, and reminds us
Of sharing your Treasured Company.
The single rose signifies the Love,
Dedication, and Call to Duty for having
Served the Best Nation in the World.
Your shipmates Miss You, Thank You, and Salute You and Your Family.
Rest in Peace.
Paul Reuter and his chief advisor, Louise were recognized for hosting this year's occasion, as well as the efforts of video man Jim Tomkinson and photogs Bud and Betty Carlson. The MC recognized the newly elected Board of Directors and Officers, our distinguished invited guests, Lonnie Gilmore and Kelly Sullivan Loughren and special attention to Evonne Wymer who represented her late uncle, Emery E. Anthony of WWII.
Our WWII Shipmates and their ladies and/or guests were asked to stand at their table, take a bow, and allow us to show our appreciation for what they endured back in the forties. Ray Burras, Fred Robertson and Bill Murphy were recognized.
AFTER DINNER ACTIVITIES
Charlie Smith thanked Lonnie Elmore, of the Waterloo Convention and Visitors Bureau, for her efforts in making the Waterloo experience a memorable event.
Our guest speaker Kelly Sullivan Loughren was welcomed to the podium with an enthusiastic round of applause. She is the granddaughter of Albert Sullivan, one of the Five Sullivan Brothers. Kelly shared her family's history through life experiences, and had her audience laughing with her, and occasionally shedding a tear with her. She spoke of the importance of recognizing and respecting the sacrifices of our veterans. Art was sure to indoctrinate Kelly into the prestigious sorority of the "Gals of the Robbie" by offering her the Robbie Ship's Hat of Distinction. She happily accepted it!
Friday
Friday began with an early breakfast before boarding the coach for the John Deere tractor assembly plant tour in Waterloo. Our tour guides were retired employees who were very knowledgeable of the entire operation. We rode throughout the plant on a trolley pulled, of course, by a John Deere tractor. Every stage of assembly, from painting to drive-train installation to wheel and tire match-ups was mind boggling. We were provided with head sets and microphones so we could listen to and ask questions of our tour guide. Seeing the finished product roll off the line with the purchaser behind the wheel was phenomenal! After visiting the John Deere museum and gift shop, we were on our way to the Iowa National Guard Army Aviation Support Facility. We were greeted by officers and enlisted personnel of the facility, who sat and ate a hot lunch with us, chatted about the 'old days,' and the 'way-it-is-now', and then gave us a very informative, hands-on tour of the facility. Upon returning to the hotel, The Board of Directors and Officers met at 1520 for their business meeting.
Saturday
The Crew's Meeting was held at 0730, and our lone 'virgin,' C. Alan Rapalee was recognized.

Ladies' Meeting
"The Gals of the Robbie" met for their meeting. We all agreed that our stay in Waterloo, Iowa had been busy and exciting. We welcomed our newcomers Evonne Wymer (niece of Emery Anthony WWII) and Keely Stokes (daughter of Tom Womble.) After admiring each others projects representing their state, we discussed what to do in Savannah, Georgia in 2014. It was decided that each 'gal' would bring an item that represents the definition of 'southern' and Savannah. Examples were; parasols, fans, handkerchiefs etc.
Memorial Service
At 0930, the Robinson crew and guests went to the Veterans Memorial Hall to participate in a most dignified, solemn and emotionally moving memorial service. The setting included memorial monuments and markers of granite and bronze commemorating all wars from the Civil War to the current Middle East War on Terrorism, a rifle-ready Honor Guard standing nearby, as well as a manned Ship's Bell, a table setting symbolically honoring all Fallen Comrades and the speaker's podium. Secretary Art offered a short prayer and read the name of every Shipmate known to have fallen this past year, after each name was read, a loud ceremonial "GONG" echoed farewell.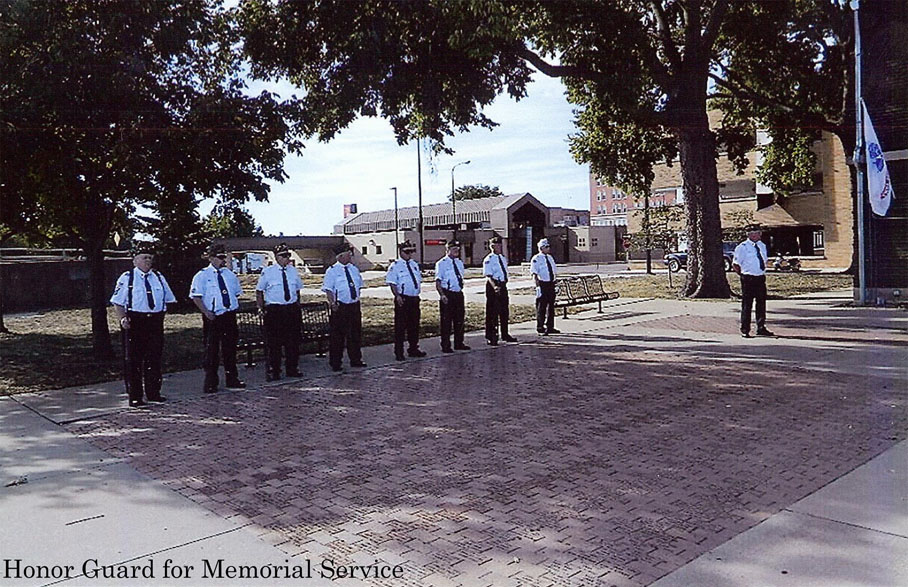 The Honor Guard then fired off a 21-gun Salute, honoring those making their "last call." The service concluded with the bugle's everlasting sound of "Taps." There was not a dry eye in the crowd!
Even with a number of last minute cancelations, 63 Shipmates/Guests found their way to Waterloo. First timers were Clarence "Alan" Rapalee and his guest Shirley "Kaye" Mealey who hail from nearby Des Moines, IA. A brief visit and 'hello' from Sid and Darlene Barnes was a pleasant surprise.
In attendance, the shipmates, first mates and guests who attended this 33rd Annual Reunion were:

Art & Judy Bowne
Ray & Bernie Burras
Bud & Betty Carlson
Tom & Peggy Clegg & Dorothy Yates
Vern & Marge Compton
Jim & Mary Ernsberger
Perrin Farrar & Betty Jost
Gene Ferguson
Millie Gelmini
Jerry &Sharon Harshbarger
Ron & Joanne Kaiser
Don & Venice Loder
Pete & Margie Masella & Phyllis Kaczor
Spencer & Carolyn Meade
Hal & Gloria Mullen

Bill Murphy & Joan Patten
Paul & Louise Reuter
'Alan' Rapalee & 'Kaye' Mealy
Fred & Cliff Robertson
Art & Bonne Schuetze
George & Eleanor Schureman
Frank & Joanne Schwerin
Wes & Karen Shanholtzer
Charles & Patsy Smith
Fred & Joyce and Sue Souba
Jim & Maye Tomkinson & Dot Kiker & Faye Hurlocker
Walter Vereecke
Don & Connie Wieser
Tom Womble & Keely Stokes
M. Evonne Wymer and Glenn & Janice Leonard
WWII Crew
F. Robertson, Capt. B. Murphy, R. Burras
Korea Crew
First Row: B. Carlson, A. Schuetze, T. Womble, F. Schwerin, P. Reuter, G. Schureman, W. Vereecke
Second Row: F. Souba, P. Farrar, P. Masella, G. Ferguson, A. Bowne, D. Loder, J. Ernsberger, T. Clegg
Post-Korea Crew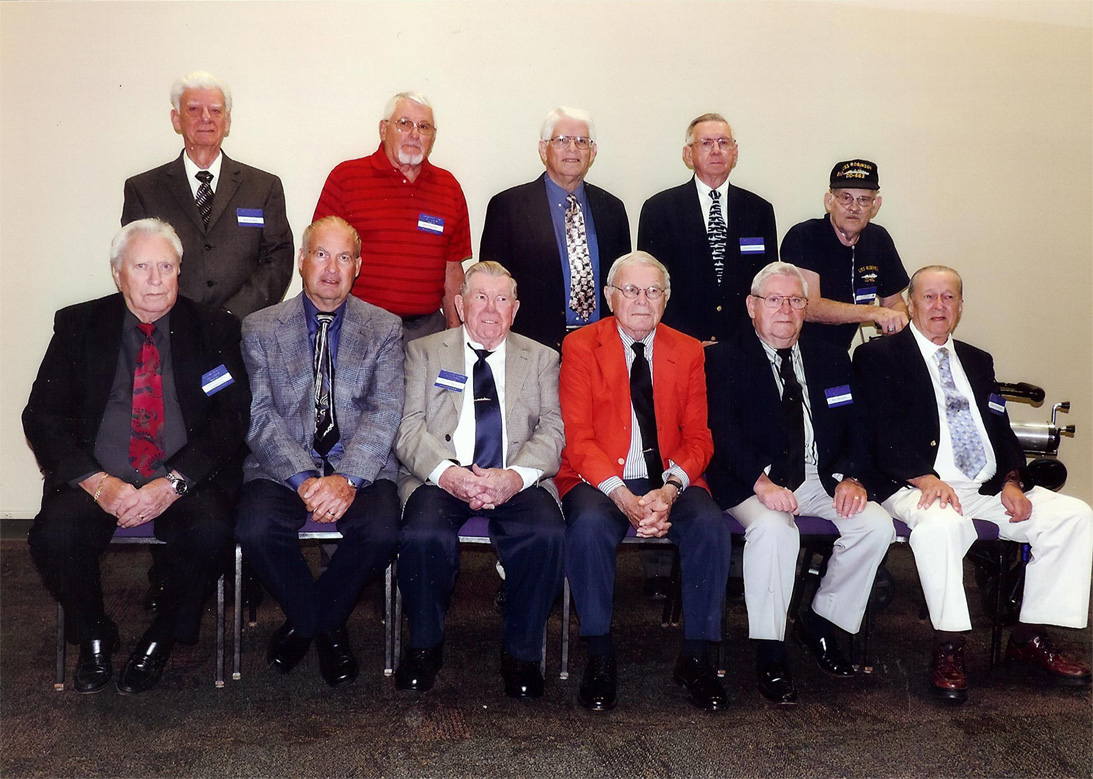 First Row: V. Compton, J. Harshbarger, J. Tomkinson, Capt. B. Murphy, H. Mullen, S. Meade
Second Row: R. Kaiser, W. Shanholtzer, D. Wieser, C. Smith, C. Rapalee
Board of Directors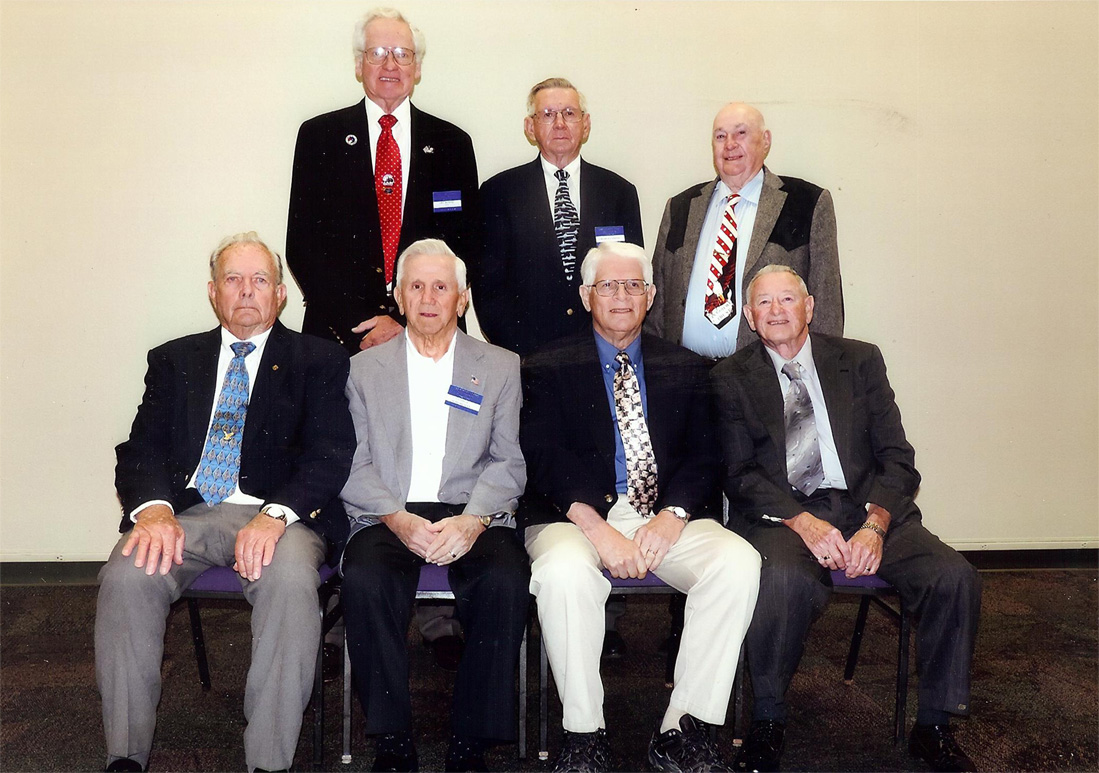 First Row: Bud Carlson, George Schureman, Wes Shanholtzer, Jim Ernsbeger
Second Row: Art Bowne (Secretary). Charles Smith (Treasurer), Tom Clegg