Year 2005 Reunion - Our 25th
South Portland, Maine
September 15-18, 2005
Best Western Merry Manor Inn
700 Main Street
South Portland, Maine, 04106
Tel: 207-774-6151

Contact: To register interest in attending, contact:
Art Bowne, Secretary
USS Robinson DD562 Inc.
Phone: (845) 856-3756
E-mail: ajbowne@frontiernet.net
Anyone desiring copies of our USS Robinson DD562 Inc. exemption application and supporting documents for "non-profit" organization, please contact:
George Schureman
24 Miles Road
Radnor Green, Claymont, DE 19703
Phone:(302) 798-7111

---
2005 Robinson Reunion Memories
South Portland, Maine
Was this our best-ever reunion? Here is Art Bowne's answer: "Maybe I'm getting old and sentimental, or perhaps I'm more easily impressed than a few years ago, but I could swear with each passing reunion, they keep getting better and better! I'm pretty much convinced that I'm still sound of mind, and that my tastes are still discretionary – but to convince myself I asked a number of regular reunion attendees their opinions and a comparison of past events (which I thought could never be topped). Lo and behold, they expressed exactly what I've expressed above. Just seems that the chemistry of the old-timers and the enthusiasm of the first- timers made for a perfect blend of fun-filled and genuine camaraderie.";
There are 87 good reasons for our outstanding reunion. See below under "Attendees";. Eleven more appear under "First Timers";. a most welcome infusion of 'new blood' into our brotherhood. Special kudos go to shipmate Carl Slack for proposing our site, and countless hours arranging for activities and for hosting our stay. Thanks also to George Schureman for his dedicated roles as Site Coordinator and Treasurer. Our thanks also go to the good folks at our hostelry - Merry Manor Inn.. We were treated in the merriest of manners by innkeeper Don Haggart and bartender supreme Ron. And then there is our superb master of ceremonies, Art Bowne, our chaplain Rev. Howard Wise, and those who contributed to, or participated in, the traditional post banquet raffle. To all we say "Bravo Zulu";..
Attendees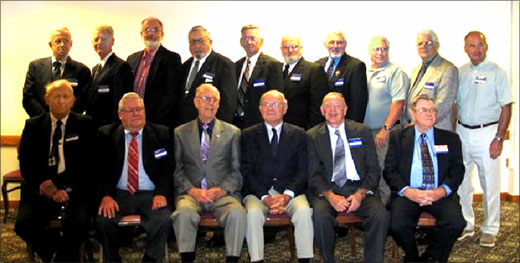 Charles & Annie Allen
Doris Armstrong & Jennetta Altes
Eldon & Anne Bartlett
Art Bowne
Bobby & Rowena Boyd
Larry & Mary Boyd
Lynwood C. Brown
Frank & Marge Carey
Tom & Peggy Clegg
Vern & Marge Compton
Bill & Betty Donohue
Jim & Mary Ellen Ernsberger
Bob & Elaine Ferguson
Gene Ferguson
Bill & Millie Gelmini
Dick Gruny
Jerry & Sharon Harsbarger
Norm Hebert
Jack & Sandra Hoyt
Ron & Joanne Kaiser
Don & Venice Loder
John & Karen Lucas
Russ Maggio & Carol Dudeck
Joe & Louise Mariana

Pete & Margie Masella
Ralph Moore
Hal & Gloria Mullen
Bill Murphy & Joan Patten
Ray & Renee Querey
Buck & Barbara Reynolds
Fred & Lois Robertson
Joe & Carolyn Sabatini
Art & Bonnie Schuetze
George & Eleanor Schureman
Frank & Joanne Schwerin
Wes & Karen Schanholtzer
Carl Slack
Charles & Patsy Smith
Fred & Joyce & Sue Souba
Bill Thoen
Jim & Maye Tomkinson & Dot Kiker
Walter Vereecke
Luke & Sue West
Don & Connie Wieser
Dave Wilkinson & Mary M. Eiseman
Howard & Betty Wise & guests:
Vivian Cearlock & Rosalee Wingo
First Timers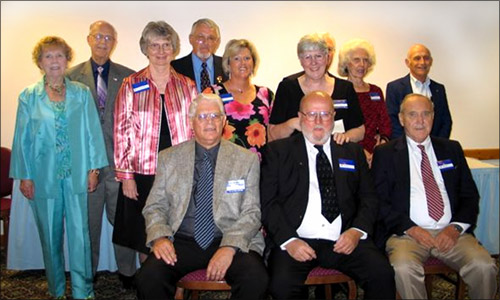 Charles "Chuck"; & Annie Allen. Chuck Allen is distinguished as the last CO of the Robbie, serving as such from 1962 to 1964. The Allens live in Charleston, SC.
Lynwood C. Brown. "L. C."; served aboard as a Machinist's Mate during the Korean War (1951 to 1954). He now lives in Blaine, ME.
Norm Hebert. Stormin' Norman, an Electrician's Mate while aboard from 1951-1955, hails rom Cumberland, RI.
Jack & Sandra Hoyt. Jack was our ship's barber from 1954 to 1858. He and Sandra live in Temple, ME.
Wes & Karen Shanholtzer. Wes was a Seaman aboard from 1957 to 1959. He and Sandra Hail from Huntington, WV.
Bill Thoen. Bill was our Air Defense Officer from 1951 to 1953. He currently lives in Ipswitch, MA.
Don & Connie Wieser. Serving aboard from 1955 to 1959 as a SH 1st Class, he and Connie now call Lincoln, NE, home.
Dave Wilkinson with Mary Margaret Eiseman. Dave was a Radarman during his 1951-1953 hitch aboard. He calls Summerville, SC, home.
A Heady Day on Casco Bay
South Portland, along side its sister city Portland, stands guard at the head of Casco Bay – a 200 square mile chunk of the Atlantic Ocean sporting 365 islands, including our destination – Head Island. We set out from Portland Harbor Friday morning aboard the good ship Chippewa, and were soon under way, guided by a school of playful porpoises. The harbor was a beehive of activity – ships unloading cargo, and merchants seeking seafood catches. Cormorants, too, were in search of seafood., and so were we..
After a most pleasant cruise through busy waters, we found ourselves circling Head Island, giving us a good look at Helga's restaurant and circular Fort Scammel, a strategic Civil War bastion. We landed, and were soon enjoying a lobster bake delicious beyond description. Yum. Helga of the Island, you are a gem.
Now it was time to stretch the legs and work off some of the sinfully good food we had just consumed.. Off we went on foot to the fort. A struggle for some, but soon we paused at the entrance for a breather and a few pictures. This fort is circular in shape, giving an enemy no particular help in choosing a point of attack. Our guide filled us in on its history and wartime functions. It wasn't long before he fired up about a dozen lanterns and led us through the dark passages. We marveled at the apparent newness of the brick, stone and concrete work dating from Civil War times. At the same time, we mentally compared this fighting structure with the gunnery spaces on the good ship Robinson. We had hydraulic hoists for our 5-inch shot and shell – they had only man power. It didn't help much when our guide set off a string of firecrackers to mimic battle sounds
A happy, well-fed gang bid farewell to the good folks of Head Island, settled in on the Chippewa, and looked forward to a return to our Hospitality Room.
Banquet Highlights
Following our traditional Pledge of Allegiance to Old Glory, and a prayer of grace by Rev. Howard Wise, our attention was directed to the Table of Fallen Shipmates. With a setting for one, but otherwise unoccupied, it reminded us of those of our shipmates recently parted from our earthly shores:
Darell Clark, WWII
William Illes, WWII
Henry "Doc"; McGee, Korea
Tom "Fred:"; Satterly, WWII
Rhesa W. Smith, Korea
Charles Summers, Korea
Homer B West, Korea
Our incomparable Master of Ceremonies, Art Bowne, next acknowledged the outstanding work of our reunion host, Carl Slack and coordinator, George Schureman. Then it was time to enjoy an evening meal of prime rib, stuffed chicken or baked haddock.. A meal to remember! When the last desert was consumed, and the dishes cleared, we pushed back our chairs to attend to the next great occasion – our traditional raffle. With a most generous, and huge, group of contributors, some 70 prizes were awarded.
A Taste of Maine
Sunday, 0900: We boarded a bus and set forth on a day of discovery and delight. Or first stop was in Yarmouth for a visit to DeLorme's The Map Store. There we found an overwhelming collection of charts, maps, atlases and related objects for sale. Dominating the displays is a huge globe modeling our earth, including its rotation. Named Eartha, this mighty model, claiming the title of world's largest, contains imagery and details equivalent to 140 gigabytes of digital data, and each inch on its surface is equivalent to about 16 miles on the earth. (Do the math: the earth's diameter is about 8000 statute miles, So Eartha's diameter must be about 8000/16=500 inches – or almost 42 feet!). Knowing Bertha would not fit on our bus, we made no attempt to purchase her.
Off next to Freeport, hometown to the famous L. L. Bean. Many chose to hunt for bargains in the vastness of this intriguing store. The rest of us reveled in the Outdoor Discovery Schools, testing our kayaking, archery, fly-casting or clay pigeon shooting skills. Art Bowne found special delight in observing the "no kill"; technique for catch-and-release of trout, demonstrated in the trout pond inside the store.
Lunch time. Back in the bus and off to Woolwich we went. Our destination this time was A Taste of Maine restaurant, "where seafood is celebrated"; Yes, indeed, we did celebrate a most delicious meal. Even the root beer was outstanding.
Our next, and last, stop was in Bath, to visit its famous Maine Maritime Museum. What an experience! This museum, perched next to the Kennebec River, was once a working shipyard. Between 1896 and 1920 it was the Percy & Small Shipyard, distinguished by having built 31 of the largest sailing ships (4-6 masts) ever built. The museum gives a remarkable insight to the skills and craftsmanship of the hundreds of men who spent months building those huge vessels - without blueprints! Surrounding the main museum building are an assortment of specialty work shops where various parts of the vessels were fabricated prior to installation. Here is where we learned what a "tarbaby"; is, how rigging and sails were made, and ironwork fashioned. You could even test your knot tying skills in the cordage shop, or sniff the oakum in the caulking shop.
Many of us boarded the museum vessel – Sherman Zwicker – a Grand Banks fishing schooner. Built in 1942, she and vessels like her, fished the Grand Banks off Nova Scotia into the '60s. This 142 ft. schooner sports an 84 ft. main mast, and a 320 HP Fairbanks Morse diesel engine capable of moving her at 9.5 knots. If the 'catch' exceeded the 320,000 pound capacity of her hold, her captain might stack additional fish on deck for the trip home. Thus ended an awesome day, a truly inspiring 'Taste of Main'.
The Answer Is ……
Yes, Virginia, it was the best Robbie reunion ever, but that does not mean it will not be exceeded next time – next September in San Antonio – especially if we can attract some more 'first timers'.We close with a salute from the gang in the Hospitality Room, drinking to your health …. .
---