Year 2010 Reunion – Our 30th
Branson Missouri
September 16-19 2010
Carion Hotel
2820 W. Highway 76
P.O. Box 6004, Branson Mo.
Tel 1-417-334-7666
1-800-725-2236
Contact: To register interest in attending, contact:
Art Bowne, Secretary
USS Robinson DD562, Inc.
Tel: (409) 935-2253
E-mail: ajbowne@comcast.net
Anyone desiring copies of our USS Robinson DD562, Inc.
exemption application and supporting documents for non-profit organizations, contact:

George Schureman,
24 Miles Road
Claymont, DE 19703
(302) 798-7111
---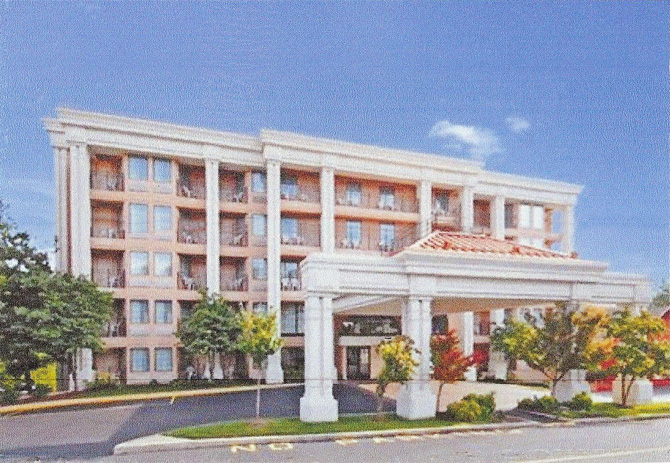 Branson, as usual, was among the best reunions the Robbie has ever had. "It doesn't get any better than this" expresses the sentiments of all those who attended this very special 30th Annual Reunion celebrated at the Clarion Hotel in Branson, MO, thanks to our host George Schureman who made this reunion a blast for all, along with the very special Clarion Hotel Staff.
The Crew was greeted in the hospitality room with a huge display created by hotel host Joe Cuna and his Cunateers. Joe also made a movie of all the activities done in the hospitality room and a copy was made available to each attendee at no cost. Thanks!
The crew had a very special Robbie Reunion Party, celebrating our 30th Annual Reunions 30th Birthday. The party was very exciting and enjoyed by all, thanks to the hard work of Patsy Smith, Peggy Clegg, George Schureman Art Bowne, and the Staff of the Clarion Hotel. Certificates were given out to all that have attended 15 or more Robbie Reunions and special USS Robinson Calendars were presented to those that have attended 20 or more years. Dick Gruny has attended the most with 23 years. Charles Smith emceed the affair and recognized the following for their many years of reunion attendance.
15 years: Andy & Norma Anderson; Eldon & Anne Bartlett; Pete & Margie Masella; Dave & Betty Miller;George & Eleanor Schureman
16 years: Art & Judy Bowne; Vern & Marge Compton; Wilbur & Jeannette Rose
17 years: Art & Bonnie Schuetze
18 years: Bud & Betty Carlson; Tony Duran; Bob & Elaine Ferguson;Ray & Renee Querey; Rev. Howard & Betty Wise
20 years: Fred & Lois Robertson
21 years: Ralph Moore; Buck & Barbara Reynolds
22 years: Jim & Maye Tomkinson
23 years: Dick Gruny
We were honored to have "First Timers" Frank Pitts and Richard Sprague onboard for this years reunion. Welcome aboard Frank and wife Linda, Richard and wife Marian. We also welcome first time attendee Dianne Fowler Melton and her daughter Holly Brem. Dianne is the daughter of the late Rufus E. Fowler.
Saturday morning the Gals of the Robbie held their annual meeting in the hospitality room where they displayed and judged their decorated tote bags. The winners were 1 st place; Betty Carlson 2nd place:Barbara Reynolds 3rd place; Eleanor Schureman. The ladies decided to decorate a cap and/or sun visor. They are also asking that you bring your favorite recipes for making a cookbook.
Sunday morning we made a memorable trip to Branson Belle, Queen of Table Rock Lake. Before boarding the vessel, we assembled at a nearby gazebo and held a Special Memorial Service for the USS Robinson DD562 Fallen Shipmates. One could hear the recorded voice of the late Rev. Howard Wise singing his favorite hymn. We opened with the playing of the Star Spangled Banner, the Pledge of Allegiance and singing of the Navy Service Hymn (lyrics provided by Venice Loder). Balloons we released at the end of a very touching ceremony.
---
In Attendance
Andy & Norma Anderson
Eldon & Anne Bartlett
Art Bowne
Bobby & Rowena Boyd
Ray & Bernie Burras
Tom & Peggy Clegg & Dorothy Yates
Vern & Marge Compton
Jim & Mary Ellen Ernsberger
Gene Ferguson
Gabe Gabel & Mike & Nathan Baker
Dick Gruny
Jerry & Sharon Harshbarger
Don Hendrick & Jean Hollis
Maurice & Mary Johnson

Ron & Joanne Kaiser
Jim & Janice Lane
Don & Venice Loder
Dianne Fowler Melton & Holly Brem
Ralph & Jeremy Moore
Hal & Gloria Mullen
Frank & Mary Pitts
Paul & Louise Reuter
Barbara & Greg Reynolds & Karen Miller
Fred & Lois Robertson, Cliff & Kim
Robertson, Craig & Kathy Robertson
Kellie Arthur and Marvene & Sue Sears:
Art & Bonnie Schuetze
George & Eleanor Schureman


Frank & Joanne Schwerin
Wes & Karen Shanholtzer
Charles & Patsy Smith
Fred & Joyce Souba
Richard & Marian Sprague
Jim & Maye Tomkinson & Dot Kiker
Walter Vereecke
Bob & Virginia Welsh
Luke & Sue West
Don & Connie Wieser
Dave Wilkinson & Mary Margaret
Eiseman
Betty Wise & Vivian Cearlock &
Rosalee Wingo & Precilla Wise
WWII Crew
Row 1. Fred Robertson, Eldon Bartlett, Dianne Fowler Melton, Gabe Gabel, Maurice Johnson
Row 2. Andy Anderson, Ralph Moore, Bernie Burras
Korea Crew
Front Row: Luke West, Paul Reuter, Dave Wilkinson, Betty Wise, Bud Carlson (on floor), Barbara Reynolds, Don Hendrick, Fred Souba
Back Row:Don Loder, Tom Clegg, Art Schuetze, Bob Welsh, Walter Vereecke, Jim Ernsberger, George Schureman, Art Bowne,
Bobby Boyd, Bernie Burras, Frank Schwerin, Gene Ferguson (on floor)
Post-Korea Crew
Front Row: Jim Lane, Wes Shanholtzer, Vern Compton, Hal Mullen, Jim Tomkinson
Back Row: Ron Kaiser, Don Wieser, Jerry Harshbarger, Richard Sprague,Charles Smith, Frank Pitts