Baton Rouge
What would you say to the citizens and mayor of a city whose mayor declares 18 September 2004 as "USS Robinson DD562 Day"? I'd say "Thank you, Baton Rouge, for the honor and the great southern hospitality shown us by your citizens." And what would you say to our own group instrumental in planning, arranging and serving our 24th reunion?" I'd say "Bravo Zulu to you Patsy and Charles Smith and George Schureman – you have our deep gratitude for putting on a wonderful reunion we will long remember as one of the very best!"
One uninvited guest – Ivan The Terrible – threatened to wipe out our happy reunion until he changed course to the north at the last moment and vented his wrath on the Florida coast near Gulf Breeze, site of our 22nd Reunion. Even so, he was primarily responsible for 27 last minute cancellations, a grievous reduction from the expected 99 attendees. Those 27 should know that we sorely missed them. Here are the ones who attended:
| | |
| --- | --- |
| Buck Bedford | Erlo & Enola McLaurin |
| Art Bowne | Dave & Betty Miller |
| Frank & Marge Carey | Ralph Moore |
| Curt Castleman | Hal & Gloria Mullen |
| Tom & Peggy Clegg | Bill Murphy & Joan Patten |
| Vern & Narge Compton | Ray & Renee Querey |
| Roy & Nellie Davis | Buck & Barbara Reynolds |
| Bill & Jean Douras | Fred & Lois Robertson |
| Jim & Mary Ellen Ernsberger | Wilbur & Jeannette & Don & Lois Rose |
| Bob & Elaine Ferguson | George & Eleanor Schureman |
| Gene Ferguson | Stan & Georgiann Seaman |
| Dick Gruny | Carl & Beverly Slack |
| Don Hendrick & Jean Hollis | Charles & Patsy Smith |
| Ron & Joanne Kaiser | Jim & Maye Tomkinson & Dot Kiker |
| Don & Venice Loder | Marcus (Smokey) & Judy Wainscott |
| John & Karen Lucas | Bob & Virginia Welsh |
| Russ Maggio | Howard & Betty Wise with |
| Derril Mark | Vivian Cearlock & Rosalee Wingo |
| Pete & Margie Masella | Tom Womble |
| Laurie (Bochert) & Gene McBride | |
Augmenting this happy crew were brief visitors Jim and Janice Lane (who contributed a beautifully embroidered chambray shirt for the banquet raffle), and Don Gilbert, a WWII gunner's mate en route from Nevada to Florida to assist family with storm damage. Roy G. Davis and his lovely wife Nellie were our only 'first timers', no thanks to Ivan. Remarkable among our attendees were Laurie and Gene McBride, of St. Clair, Missouri. Laurie is the daughter of our late shipmate Larry Bochert. She was so inspired by her dad's affection for our Robbie and his crew mates (of 1952-56) that she asked to attend our reunion with husband Gene, mingle with his shipmates. When our esteemed leader Art Bowne announced to our group that our regular photographer, Bud Carlson had to miss our reunion on account of wife Betty's illness, Gene and Laurie jumped to the rescue. It turns out that taking pictures is what they do for a living, and they had brought cameras with them. From that moment on, they shot hundreds of pictures, and later made them available to all on DVDs. You will find examples throughout this story. Thank you, Laurie and Gene.
Jist Kidding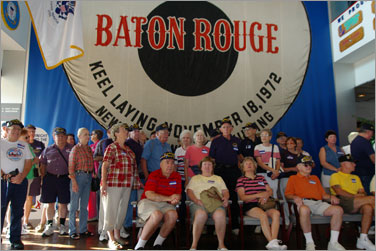 Click on the picture for a larger view
On the eastern bank of the Mighty Mississippi River in downtown Baton Rouge lies the USS Kidd, DD661, a beautifully preserved fighting ship of the US Navy's World War II Fletcher destroyer class. This explains why Baton Rouge has long been a Mecca for onetime destroyer sailors, and why we chose this hospitable place for our 24th reunion. Our Robbie was a Fletcher class ship practically identical to the Kidd.
Attached to the Kidd by a long elevated walkway is an elegant museum and visitor's center. Here we were delivered by bus for a Friday trip back in time to when we trod the decks of the Robbie. After a welcome and briefing by the museum staff, we strode down that long walkway lined by a hundred US flags, waving us onward. It was a glorious sunny morning. Approaching gangplank, we broke into pairs, saluted the colors, and requested permission of the deck watch to board. We next assembled as a group on the fantail for a brief memorial service lead by our own Rev. Howard Wise. Standing there in respectful silence we were reminded that freedom is not free, and that we never forget the sacrifices of our fellow crewmen, our brothers in other services, and all others who help us preserve the freedoms we hold dear. A beautiful rendition of Taps concluded the touching ceremony.
Now we were free to prowl the ship! Boy, did we prowl! "Here's my bunk!", "That was my GQ station!", "I don't recall CIC being so cramped", "I used to descend this ladder without touching a single rung!", "Here's where our doc removed a sailor's appendix in the midst of a typhoon". Down in the crew's quarters, beneath several rows of 4-tiered bunks, we discovered the "foot locker display" of mementoes from many destroyer organizations, including ours. Assembled several years ago by our late shipmate Don Fahlberg, it contains a deck log, a torpedo man's manual and paraphernalia, and photos.
Reluctantly we all 'abandoned ship' in preparation for a farewell ceremony and lunch. Rev. Wise again did the address, and George Schureman and Dave Miller laid a wreath near the perpetual flame monument outside the museum. It was then time for lunch at the Casino Rouge, just downstream fron the Kidd, followed by a leisurely afternoon testing our luck at the casino or wandering the area.
James Audubon Slept Here
Two magnificent pre bellum mansions were the targets of our Saturday bus tour. A half-hour ride outside of Baton Rouge, the first of theses, the "Oakley House, achieved notoriety as the place where John James Audubon painted many of the bird pictures for which he is famous. He did this as a guest, not as the owner. Wandering the heavily wooded grounds, we had visions of Audubon doing the same, his face lifted to the sky looking for winged subjects. Inside the house we marveled at what the furnishings told us of upper class life in those days long gone. Imagine a group of old tin can salts clustered around a huge 4-poster canopied bed, shrouded with white netting. You could almost hear them comparing that luxurious bed to the bunks they slept in on the Robbie.
Boo Who?
The second mansion we visited – the "Myrtles Plantation", was equally attractive, but for a far different reason. The Myrtles is touted as the most haunted home in the U.S. On one occasion, a person in the sitting room was murdered by a gunshot from outside a window. The bullet mark is there to be seen to this day. Many other residents and visitors died there under suspicious circumstances, leading to the belief that ghosts were frequent visitors. Because everyone knew then that ghosts could enter and leave the premises through mirrors, only one mirror was allowed, a full length one in the downstairs hall.
Banquet Extraordinaire
Always a highlight of our reunions, this was a banquet to remember. Art Bowne, our peerless MC, led us through a pledge of allegiance and a moving tribute to our recently fallen shipmates: Don Anspaugh, James Armstrong, Vince Buonanno, Lawrence Bochert, Donald Campbell, Ernest Downing, Joseph Gnann, Norman Guillotte, Richard James, Ralph Kempton, Don Lukanen, Richard Martin, Wilbur Petter, James Raybold, Merrit Redmond, Sherman Sudduth and Richard Tinker. Fallen first mates similarly recognized included Peggy Ennis, Diane Gruny, Audrey Hart, Della Lukanen and Mary Lozier. Our traditional 'missing shipmates' table setting was there to remind us of those who were with us only in spirit.
Then came a glorious feast, enjoyed by all in an atmosphere of conviviality. After a yummy desert, we settled back for the evening's festivities, starting with a "Leave the driving to us" award to Curt Castleman for surviving abandonment at a bus pit stop in the heart of Texas on his way to Baton Rouge. Then it was time for our much-anticipated raffle. Choreographed by Mary Ellen Ernsberger and Eleanor Schureman, some 70 prizes were awarded to lucky ticket holders. Not only that, our reunion bank account was enlarged, thanks to the many contributions of cash, talents and gifts from our own folks and from outside organizations such as Richard's Military Post Exchange, Tin Can Sailors, Bath Iron Works, and numerous nearby Louisiana restaurants, museums and the like. We owe a loud "well done" to those who brought about this miraculous outpouring of gifts. Once again our hosts Patsy and Charles Smith, the Ernsbergers and the Schuremans come to mind. Thanks, folks, and thanks to you dear reader if you were involved.
The evening activities next adjourned to the hospitality room for a final round of happy chatter, ending with the time honored posing for 'class' pictures. There was another bus tour Sunday morning, to downtown New Orleans to visit the National D-Day Museum. Our folks came out of that museum enthralled with what they had seen, especially the realism of the displays dealing with the war in the Pacific – where the Robbie played a large role.
What would you say to those instrumental in giving us this outstanding reunion experience? I'd say words fail to convey the good feelings carried away from this Baton Rouge experience. Let's do it again and again, remembering with gratitude all who made it happen.
World War II Crew
Standing, L to R: Roy Davis, Dave Miller, Ralph Moore, Fred Robertson,
Bill Douras, Derril Mark, Curt Castleman
Seated: Buck Bedford
Korean War Crew

Back Row L to R: Pete Masella, Erlo McLaurin, Bob Welsh, Art Bowne, Bob Ferguson
Center Row L to R: Buck Reynolds, Frank Carey, Russ Maggio, Gene Ferguson,
Tom Clegg, Don Loder
Front Row L to R: Don Hendrick, Ray Querey, Howard Wise, Stan Seaman,
George Schureman, Thomas Womble
Post Korea Crew
Standing L to R: Ron Kaiser, Rich Gruny, Vern Compton, Carl Slack, Charles Smith,
Marcus Wainscott
Seated L to R: Jim Tomkinson, Wilbur Rose, Bill Murphy, John Lucas, Hal Mullen
---