Year 2014 Reunion – Our 34th
Savannah, Georgia
September 11-14, 2014
Contact: To register interest in attending, contact:
Art Bowne, Secretary
USS Robinson DD562, Inc.
Tel: (281) 474-0558
E-mail: ajbowne@yahoo.com
Anyone desiring copies of our USS Robinson DD562, Inc.
exemption application and supporting documents for non-profit organizations, contact:

Charles Smith
1087 Briar Patch Rd.
Broussard, LA 70518-8022
Tel: (337) 367-0705
---
Year 2014 Reunion – Our 34th.

Savannah, Georgia, the site of our 34th Reunion is much more than a city with a pretty name; it offers Southern charm, eloquence, history and pride. Thanks to the efforts of George Schureman for locating the Holiday Inn Express and Suites on the outskirts of Savannah, and our host Charlie Smith, we had a fantastic reunion. Charlie made it a point to express, through a letter, our gratitude to the Holiday Inn for the attention and hospitality given to us, particularly Allison, who cheerfully fulfilled our requests. A letter was also sent to Creative Catering for the outstanding banquet they provided.
Thursday
Thursday was the day of arrival for most. Registration was in the Hospitality Room, (Willow Room) beginning at 0900 and continuing through the evening hours. This was a time to say "hello," renew old and establish new friendships, enjoy some refreshments and check out the additions to our memorabilia display tables. We also welcomed seven first-time shipmates, along with their first mates and guests
Our newest acquisition to our memorabilia collection is a bronze plaque commemorating the Navy's Battle "E" (awarded to the Korea crew in1954) which came to us compliments of Keith and Jenny Maddox from England! It was found 15 years ago in a skip (dumpster) while they were cleaning up, and through the internet, they were able to locate Art Bowne. After many e-mails back and forth, Art made arrangements to have the plaque shipped here to be displayed at our reunion. The Crew, Officers and Board of Directors, agreed to send a token of appreciation to Keith and Jenny in the form of 'Robbie' hats.
Also added was a copy of author Larry Berman's book, The Life and Times of Admiral Elmo Russell "Bud" Zumwalt, Jr., donated by shipmate Robert Murphy.
Debbie Celiceo, daughter of recently fallen shipmate Norm West, sent photos of his WWII era collection to be displayed.
Friday
Following an early breakfast at the Inn, the group assembled and boarded the trolleys for a 90-minute fully narrated tour of beautiful historic downtown Savannah. Boy was it windy tooling down the Interstates with no windows or seatbelts! Some of the highlights of the tour included Colonial Park Cemetery, City Market, River Street, Forsyth Park and a host of Beautiful Squares. We were able to tour the interior of The Cathedral of Saint John the Baptist and marvel in the magnificence of its construction and beauty. Since the 1700's, City Market has been the commercial and social center of historic Savannah. Located on the original site of the market used by farmers and traders of all kinds to sell their goods and wares, City Market offers the best of what is old and what is new in Savannah. Today, Savannah's City Market comprises a four-block area of restored warehouses and shop fronts adjacent to Ellis Square. This charming, open-air marketplace has a wealth of things to do in Savannah whether you come for the entertainment, to shop, to dine or just to rest your weary feet! After the tour, many of us opted to stay and have lunch, shop or do more sightseeing until it was time to board the trolley and return to the Inn!
Saturday
The secretary called the Crew's Meeting to order at 0800. Following the Pledge of Allegiance, a moment of silence for our recently Fallen Shipmates whose names were read, was observed. There were seven "virgin" (first-time shipmates) introduced: Joe Austin, Everette Boaen, Hugh Helmly, Ray Horn, John Howell, Richard Magune and Ray Thomas. They were all greeted enthusiastically by the crew.
Shipmate Don Loder was thanked for designing and crafting a carrying case for the 4 ft. model of our ship. He also designed a foldaway stand for our heavy Bronze Plaque of WWII Battles. The crew expressed their appreciation with enthusiastic applause.
Ladies' Meeting
Ladies' Meeting: Margie Masella, Mary Guillory, Sue West,
Peggy Clegg, Margaret Helmly, Phyllis Kaczor
The "Gals of the Robbie" welcomed newcomers, Margaret Helmly, Sandra Howell, and Dorothy Keeney. We are looking forward to seeing you in D.C. in 2015! Since we are in Savannah, known for moss laden trees, magnolias and Southern Belles, we each brought an item representing a true southern lady. Some modeled wide brim hats, parasols and fans. Others had confederate money, or carried handkerchiefs and smelling salts in case of the vapors.
Next year, ladies, our meeting will start one hour after the shipmates. This gives us an extra hour of beauty rest! Please remember to bring a wrapped or bagged "White Elephant" gift to be exchanged. The "most important" thing we do in our meetings is to socialize, while the guys take care of business!
BANQUET HIGHLIGHTS
We gathered in the Willow and Dogwood Rooms for the evening's banquet. Attention was focused to The Table of the Fallen Shipmate and the traditional reading of the Fallen Shipmate plaque followed. Each fallen shipmate's name was then announced.
In memory of each and every shipmate who served aboard the USS Robinson DD562, who could not be with us tonight because of joining the
"Greatest Admiral" of us all, our God in heaven.
This single place-setting has you join us,
Both in Memory and Spirit, and reminds us of sharing your Treasured company.
The Single rose signifies the Love,
Dedication, and Call to Duty for having
served the Best Nation in the World.
Your shipmates Miss You, Thank You, and Salute You and Your Family.
Rest in Peace.
"Last Call"
BORAWSKI, RAYMOND M.
BURRAS, RAYMOND
DEITTE, ELMER
FLETCHER, BILLY BURL
GODDEN, HOWARD R.
GUEVIN, DONALD R.
HIRT, OSCAR R.

WWII
WWII
WWII
WWII
WWII
PK
WWII
JOHNSON, CLYDE LYLE
MOORE, RALPH L.
SABATINI, JOSEPH
ST. JOHN, ROBERT
WEAVER, ELTON L.
WEST, NORMAN W.
WWII
WWII
K
PK
K
WWII

Also remembered was David McComb, Destroyer Historian. Our thoughts and prayers were extended to Shipmates and First Mates known to have been in harm's way at this time.
Don & Inga Griffiths, Millie Gelmini,

Judy Bowne, Eleanor & George Schureman,

Art Bowne, Carolyn Sabatini, Bud & Betty Carlson

After a delicious meal, our MC, aka Art Bowne , recognized George Schureman, our site locater, and hosts, Charles and Patsy Smith for their work in bringing this year's reunion to fruition, He also thanked Jim Tomkinson (26th consecutive reunion!), our video man, and Bud and Betty Carlson, our photographers! The newly elected Board of Directors and Officers were introduced. Patsy Smith was thanked for making the centerpiece decorations for each of the tables. She received a warm and sincere round of applause.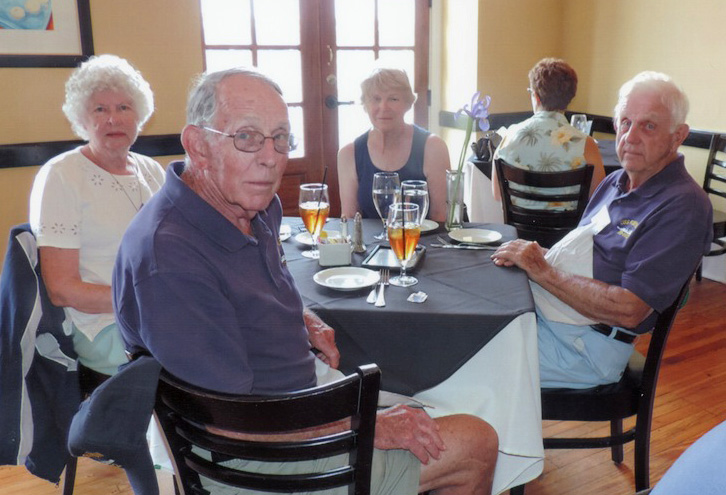 L to R: Venice Loder, Bob Welsh,

Dorothy Keeney, Don Loder

Front and center was the table reserved for our WWII shipmates. Our lone representative for this era was Meredith (Andy) Anderson. He was accompanied by his wife, Norma, and Doug Carney.

One of the highlights of banquet night is the ***RAFFLE***. Patsy Smith and Sharon Harshbarger are our Rafflettes! The marvelous gifts donated by shipmates, first mates, friends and organizations were handed out one-by-one to lucky winners!

SUNDAY
Sunday was our final full day in Savannah. We loaded up our vehicles after an early breakfast, and drove to the riverside area for the Riverboat Cruise. We boarded the vessel with a number of other groups and individuals. Boats, barges and loaded cargo ships comprised the busy river traffic as we got underway to enjoy a 90-minute narrated cruise. The skipper informed us that, to our surprise, we were about 18 miles inland from the ocean's inlet. He pointed out and gave detail of the many significant structures and sites along the glorious Savannah River and their role in developing the history of this area. It was a very relaxing cruise!

Of the 89 attendees, 39 were shipmates. The shipmates, first mates and guests who attended are listed. The names in bold print preceded by an*asterisk compose the elite group of first-timers (virgins.)
Meredith (Andy) & Norma Anderson and Douglas Carney
*Joe & Gail Austin
*Everette & Linda and Sally & Shawn & Jamie Boaen and Pat & Alan Yovich
Art & Judy Bowne
Bud & Betty Carlson
Tom & Peggy Clegg and Dorothy Yates
Vern & Marge Compton
Jim & Mary Ellen Ernsberger
Perrin Farrar & Betty Jost
Gene Ferguson
Millie Gelmini
Don & Inga Griffiths
Elvin & Mary Guillory
Jerry & Sharon Harshbarger
*Hugh & Margaret Helmly
*Raymond Horn
*John & Sandra Howell
Ron & Joanne Kaiser
Don & Venice Loder
William & Katherine Lyle

*Richard Magune
Russ Maggio and Kim & Anna Maggio and Debra Runowicz
Pete & Margie Masella and Phyllis Kaczor
Spencer & Carolyn Meade
Hal & Gloria Mullen
Ray & Renee Querey
Carolyn Sabatini
Art & Bonnie Schuetze
George & Eleanor Schureman
Frank & Joanne Schwerin and Jeri Schwerin & Carolyn Luehmann
Carl Slack
Charles & Patsy Smith
Fred & Joyce and Sue Souba
*Ray and Sandra Thomas
Jim & Maye Tomkinson and Dot Kiker & Faye Hurlocker
Walter Vereecke
Robert Welsh & Dorothy Keeney
Luke & Sue West
Don & Connie Wieser
Tom Womble and Keely & Alexa Stokes
WWII Crew
Meredith "Andy" Anderson
Korea Crew

Top: Ray Horn, Art Bowne, Luke West
Middle: Bud Carlson, Don Loder, Tom Clegg, Walt Vereecke, Pete Masella, Russ Maggio, Art Schuetze, Gene Ferguson, Perrin Farrar
Front: Frank Schwerin, Tom Womble, Fred Souba, George Schureman, Ray Querey, Bob Welsh

Korea Gals

Top: Peggy Clegg, Maye Tomkinson, Faye Hurlocker, Dot Kiker, Sue West,
Judy Bowne, Venice Loder, Betty Carlson, Carolyn Sabatini, Bonne Schuetze, Joyce Souba
Front: Sue Souba, Joanne Schwerin, Renee Querey, Margie Masella. Eleanor Schureman, Betty Jost, Millie Gelmini, Phyllis Kaczor

Post-Korea Crew

Top: Don Wieser, Bill Lyle, Elvin Guillory, Everette Boaen, Charles Smith
Middle: Ron Kaiser, Jim Ernsberger, Jerry Harshbarger, Don Griffiths, Hugh Helmly, Joe Austin, Ray Thomas
Front: Carl Slack, John Howell, Hal Mullen, Jim Tomkinson, Spence Meade, Vern Compton

Post Korea Gals

Top: Margaret Helmly, Inga Griffiths, Patsy Smith, Carolyn Meade, Mary Guillory
Front: Sharon Harshbarger, Sandy Howell, Connie Wieser, Mary Ellen Ernsberger, Joanne Kaiser, Gloria Mullen

Board of Directors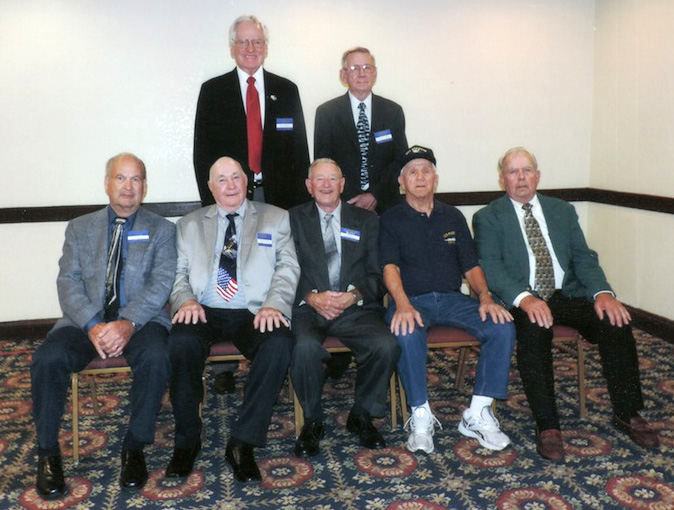 Top: Art Bowne (Secretary), Charles Smith (Treasurer).
Front: Jerry Harshbarger, Tom Clegg, Jim Ernsberger, George Schureman, Bud Carlson