Year 2009 Reunion – Our 29th
NewPort News, Virginia September 2009
Contact:
Art Bowne, Secretary
USS Robinson DD562, Inc.
Tel: (281) 474-0558
E-mail: ajbowne@yahoo.com
Anyone desiring copies of our USS Robinson DD562, Inc.
exemption application and supporting documents for non-profit organizations, contact:

George Schureman,
24 Miles Road
Claymont, DE 19703
(302) 798-7111
---
Year 2009 Reunion – Our 29th
Newport News, Virginia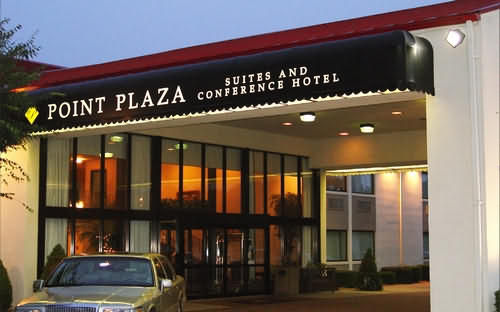 Well, our illustrious site locater and trusted treasurer George Schureman, has done it again! He packed his van with reunion supplies, 300 miles worth of organic carrots and his wife Eleanor and journeyed his way to Newport News, VA to prepare for what proved to be an outstanding 29th Reunion. He even found time to pick up Art and Judy B. at the Norfolk Airport that same day. Off to the Point Plaza Suites and Conference Hotel to begin preliminary chores for ensuring a smooth and successful gathering; '" and that it was. Thank you George! We can't say enough for the VIP treatment received from the Hotel Staff, and in particular, the extent time and attention to detail afforded us by Dee Garland, Sales Manager, and Andrea Hellman, Catering Sales Manager, to overseeing that every aspect of our Reunion was to our satisfaction. Thank you.
Thursday was arrival day at the for most, time to unpack and find your way to the combined "Sandbar & Sandpiper Rooms," our designated Hospitality room, to register and Point Plaza Suites & Conference Hotelmeet up with both old and newly made acquaintances. Hugs and kisses and handshakes galore!
Tour A
Friday was an extremely busy tour day. On the agenda were visits to The Mariner's Museum. Lunch at the Mariner's Museum Cafe, Fort Monroe, the Casemate Museum and finally, a Memorial Service at the Chapel of the Centurion (at Ft. Momoe). Then back to the hotel for a Wine & Cheese Party.
Touring these facilities was magnificent. The Mariner's Museum offered the Chesapeake Bay Gallery that featured a lens from the Cape Charles Lighthouse, a Native American dugout canoe (1630), a Chesapeake Bay deadrise workboat and a working steam engine (1895). Onto the USS Monitor Center. This is a new $30-million Civil War attraction showing a full-scale Monitor replica, a high-definition Battle Theater, state-of-the-art conservation labs and numerous artifacts induding the iconic gun turret. The center's galleries are re-creations of times and places. The many displays and exhibits were awesome.
Next stop was Fort Monroe and the Casemate Museum. This is the home of the Army's Coast Artillery collection and the focal point of historic Fort Momoe which was built in 1819. Ft. Momoe's mission was to protect the entrance to the Hampton Roads harbor by mounting an impressive complement of the most powerful artillery of the time 32-pounder guns(each cannonball weighed 32 pounds). There were displays of weapons, uniforms and drawings of the times. The focal point was the prison cell where Jeff Davis was imprisoned after the Civil War. Edgar Allan Poe served here for 16 months as an enlisted man and Robert E Lee, a young officer, served with the Army Corps of Engineers.
Our concluding activity at Ft. Monroe was to assemble at the Chapel of the Centurion, where Shipmate Rev. Howard E. Wise conducted a Memorial Service honoring our fallen shipmates and those, who through many eras of history, served in our Armed Forces to maintain our freedom and coveted way of life

Ladies Meeting
The "Gals of the Robbie" met amidst protest and near riots (did you say 7:30 a.m. on a vacationing Saturday morning?) swelling to a crowd of 30 plus, enjoying coffee and pastries. A Decorated T-Shirt Contest was held, judged, applauded and the winners were announced and duly congratulated:
1 st Place: Sue West
2nd Place: Phyllis Kaczor
3rd Place: Millie Gelmini
Banquet Highlights
Rev. Howard Wise delivered the invocation, giving camaraderie we share, keeping in mind those shipmates who are unable to be with us physically, but who are very much in our thoughts and prayers.
Attention was drawn to The Table of the Fallen Shipmate, and the reading of the Fallen Shipmate plaque followed.
In memory of each and every shipmate who served aboard the USS Robinson DD562, who could not be with us tonight because of joining the "Greatest Admiral" of all, our God in Heaven.
The single place-setting has you join us,
Both in and spirit, and reminds us
Of sharing your Treasured Company.
The single rose signifies the Love,
Dedication, and Call to Duty for having
Served the Best Nation in the World.
Your shipmates Miss You, Thank You, and Salute You and Your Family. Rest in Peace.
Tour B

The Sunday tour was a triple-phased excursion. First, a good look at the 8,000 Acre Norfolk Naval Station, part of which is the Norfolk Naval Base. It surely did not look like this in the early 50s! We rode by the 14 piers and witnessed the configurations of warships that were not at all similar to the "old" tin-can days.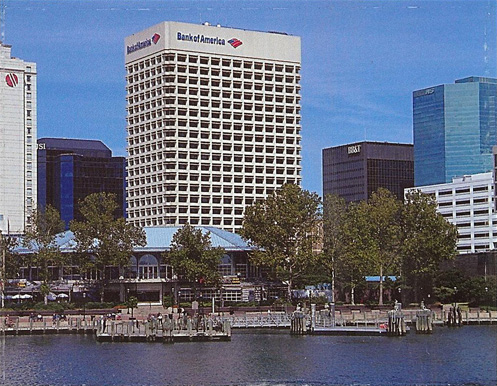 Phase two took us on a riding tour of Norfolk City. Hampton Boulevard and East Main Street-WOW!-do our eyes decieve us? Whatever happened to all that ink from the tattoo parlors (aka: shacks) and the fermented and distilled liquids that frequented this strip The final tour phase of this glorious day was to board the Victory Rover and take a 2-hour cruise of historic Hampton Roads Harbor. More memories were ignited as we passed what used to be the old CE (Convoy Escort) piers as we viewed the fleet from the waterside perspective. The carriers, subs, missle cruisers and destroyers displayed their mighty awesomeness as the swabbies from yesteryear gazed upon this armanda in disbelief and appreciation.
ATTENDEES
Even with some last minute cancellations, we had 89 attendees this year. Among them and of special notoriety was Carl Bieber and his wife, Dotty. He attempted to pass himself off as a regular attendee by announcing at the Crews Meeting that this was his 14th Reunion. Yes, Carl was the 'lone virgin' among the Shipmates finding their way to Newport News!
The shipmates, first mates and guest who attended this 29th Annual Reunion and who experienced the fantastic hospitality, the historic significance and fun of Newport News/Hampton Roads area are:
Carl & Dotty Bieber
Art & Judy Bowne
Bobby & Rowena Boyd and
Ernie & Cindy Boyd
Bud & Betty Carlson
Tom & Peggy Clegg
Vern & Marge Compton
Jim & Mary Ellen Ernsberger
Gene Ferguson
Bob & Elaine Ferguson
Millie Gelmini and Paula Orsini
Don & Inga Griffiths
Dick Gruny
Jerry & Sharon Harshbarger
Norm & Carol Hebert

Don Hendrick & Jean Hollis &
Don Hendrick
Maurice & Mary Johnson
Ron & Joanne Kaiser
Jim & Janice Lane
Don & Venice Loder
John & Karen Lucas
Pete & Margie Masella & Phyllis Kaczor
Spencer & Carolyn Meade
Dave & Betty Miller
Ralph Moore
Hal & Gloria Mullen
Bill Murphy & Joan Patton
Junior Mustard
Roger & Edna Mustard

Ray & Renee Querey
Barbara & Jon Reynolds
Fred & Lois Robertson, Craig &
Kathy Robertson
Joe & Carolyn Sabatini
Art & Bonnie Schuetze
George & Eleanor Schureman
Wes & Karen Shanholtzer
Charles & Patsy Smith
Jim & Maye Tomkinson & Dot Kiker
Walter Vereecke
Bud & Virginia Welsh
Luke & Sue West
Don & Connie Wieser
Rev. Howard & Betty Wise& Vivian Cearlock & Rosalee Wingo & Precilla Wise

Robbie Photo Captions
World War II Crew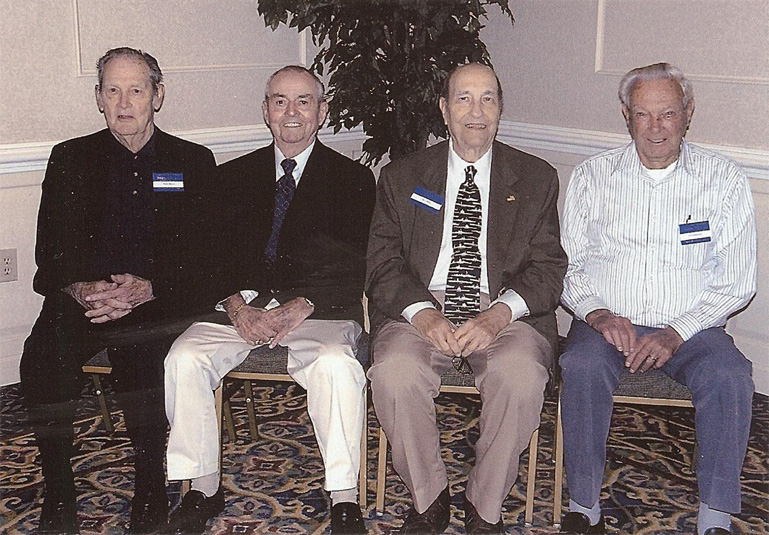 Ralph Moore, Maurice Johnson, Dave Miller, Fred Robertson
Korean War Crew
Back Row: Art Bowne
2nd Row: Bob Ferguson, Art Schuetze, Pete Masella, Bob Welsh, Joe Sabatini,
Jim Ernsberger, Don Loder, Bobby Boyd, Tom Clegg, Roger Mustard
Front Row: Walter Vereecke, Norm Hebert, Ray Querey, Howard Wise,
Luke West, George Schureman, Gene Ferguson
On Floor: Don Hendrick, Bud Carlson
Post-Korean War Crew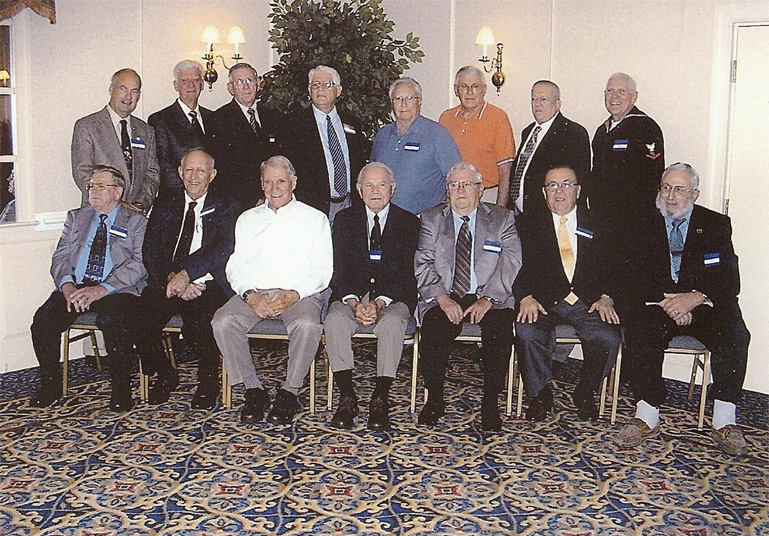 Back Row: Jerry Harshbarger, Ron Kaiser, Charles Smith, Wes Shanholtzer, Vern Compton, Don Wieser, Spencer Meade, Don Griffiths
Front Row: Jim Tompkinson, John Lucas, Jim Lane, Bill Murphy, Hal Mullen, Carl Bieber, Dick Gruny