2002 Robinson Reunion Memories
Our 22nd

Gulf Breeze, Florida
Ah, Gulf Breeze ! What a delightful spot for a meeting of the Clan ! Perched on a little finger of land dividing Pensacola Bay from the Inland Waterway and the Gulf, our palm-fringed venue boasted glorious gulf and bay vistas and comfortable quarters, a great base for welcoming newcomers, renewing friendships, and embellishing exploits of days of yore. What can beat kicking back on that Bay Beach Inn deck, glass in hand, watching the starry heavens replace a glowing red sunset, whilst Wilbur spins yarns of all-but-forgotten exploits and adventures?
Forty one shipmates, along with 34 firstmates and 3 guests, were on hand to celebrate this, our 22nd annual Robbie Reunion. Only 6 WW2 vets appeared, down from 17 last year in Peoria. That was a disappointment, but there was good news in that we 'found' and enticed 6 newcomers into our fold. You will find their names in bold print in the attendee list below. We sincerely hope they will continue attending in the years ahead.
Continuing a tradition started last year in Peoria, we set a "missing shipmate" place at our banquet table in memory of those who have left our earthly shores, and paused to remember those leaving since last we met.
Did you know the Blue Angels call Pensacola their home port? We learned that, and many more interesting things, in our tour of the Naval Air Station and Museum of Naval Aviation in nearby Pensacola. What a fascinating place is that museum! There you can see, up close and personal, every aircraft type used by Navy fliers since day one. You can watch, transfixed, the story of the Flying Tigers in Burma unfold, and learn that our 'black shoe' hero, Adm. Arliegh '31-Knot' Burke, graduated from that NAS.
Close by is Florida's first lighthouse - an imposing structure which, curiously enough, is not imposing enough to be a point of reference for ships and fishing boats entering the Port of Pensacola. They prefer, we were told by our guide, a tall smokestack a mile or so farther up the channel.
Pensacola claims to be the first 'real settlement' in the southeast US - nudging out even St. Augustine for the honor. We delighted in a 'Museum Tour' of its Seville Historic District. There we were introduced to a historic "shotgun house" - a narrow house on a narrow lot where, if both front and back doors were open, and the residents were not in line, you could shoot clear through the house without hitting anything. Other preserved homes are magnificent, and the Museum of Commerce, in an old quay-side warehouse, offers a fascinating portrayal of downtown Pensacola as it was in the Gay Nineties.
Our hospitality room hosts, Dick Gruny and George Schureman, performed brilliantly in keeping everyone happy in the crew room and on the tours. They deserve a hearty "well done", as does Rich Tinker for 'scoping out' the Bay Beach Inn for us. Thanks to them, and to all who attended, for making this a reunion to remember.

In Attendance
Sidney & Darlene Barnes
Art Bowne
Bud & Betty Carlson
Tom & Peggy Clegg
Vern & Marge Compton
Bill & Jean Douras
Bob & Peg Ennis
Jim & Mary Ellen Ernsberger
Bob & Elaine Ferguson
Gene Ferguson
George & Rita Flege
Bill & Mildred Gelmini
Dick & Di Gruny
Jerry & Sharon Harshbarger
Don & Edwina Hendrick
Ed Herscher
Ron & Joanne Kaiser
Ken & Sally Kuzenski
Jim & Janice Lane
Don & Venice Loder
John & Karen Lucas
Russell Maggio

Pete & Margie Masella
Dave & Betty Miller
Ansel & Vera Minick
Ralph & Virginia Moore,
Kim & Delores Moore
Duane & Rena Negaard
Ray & Renee Querey
Buck & Barbara Reynolds
Fred & Lois Robertson
Wilbur Rose
Joe & Carolyn Sabatini
Art & Bonnie Schuetze
George & Elly Schureman
Frank & Joanne Schwerin
Charles & Patsy Smith
Ted Szcepkowski
Rich & Betty Tinker
Jim & Maye Tomkinson,
Dot Kiker
Walter Vereecke
Tom Womble,
Billie Ramsey
WWII Group Photo

Click on the picture for a larger view.
Front row L-R: Dave Miller, George Flege, Ted Szcepkowski.
Back row L-R: Bill Douras, Fred Robertson, Ralph Moore.
Korea Group Photo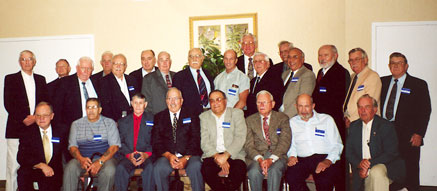 Click on the picture for a larger view.
Front row L-R: Ray Querey, Bill Gelmini, Tom Womble, Bob Ferguson, Russ Maggio, Walt Vereecke, Frank Schwerin, Bud Carlson.
Second row L-R: Rich Tinker, Gene Ferguson, Don Hendrick, Tom Clegg, Joe Sabatini, Sid Barnes, George Schureman, Art Schuetze, Ken Kuzenski, Buck Reynolds, Jim Tompkinson.
Third row L-R: Jim Ernsberger, Don Loder, Pete Masella, Art Bowne, Ed Herscher.

Post Korea Group Photo

Click on the picture for a larger view.
First row L-R: Bob Ennis, Dick Gruny, Jerry Harshbarger, Vern Compton, Jim Lane.
Second row L-R: Ron Kaiser, John Lucas, Charles Smith, Ansel Minick, Wilbur Rose, Duane Negaard.
---