Thanks to our Hosts Don and Connie Wieser for locating the Ramada Plaza Convention Center and investigating the numerous activities and tours offered by Omaha, NE, we had an amazingly successful 36th Annual Robbie Reunion! Thanks, also, to Charlie Smith for making it all come together. The spirit and enthusiasm of our Robbie gang and our visit to Omaha will be remembered as a fantastic reunion.

Thursday was arrival day for most. After checking into your room and getting unpacked and oriented, registration was in the Hospitality Room (Iowa Room). There was time to meet with old friends and guests, peruse the memorabilia on display and read personal notes from shipmates posted on the bulletin board. Plenty of photos, a Robbie historical display, Operation Redex 82, an autographed copy of CDR Rick Campbell's acclaimed Empire Rising (to be raffled off), announcement of the CDR's newest release, Ice Station Nautilus, and much, much more. Included in a welcome packet, besides the usual contents, were Koozies and Bookmarks complements of CDR Campbell. Add to these treats a most generous gift and remembrance through courtesy of the Wiesers was a deck of playing cards, not just any cards, but a deck with each individual card bearing a picture of the USS Robinson and the reunion site and date. Thank you, Connie and Don!


The Heimat Tanzer German Dance Group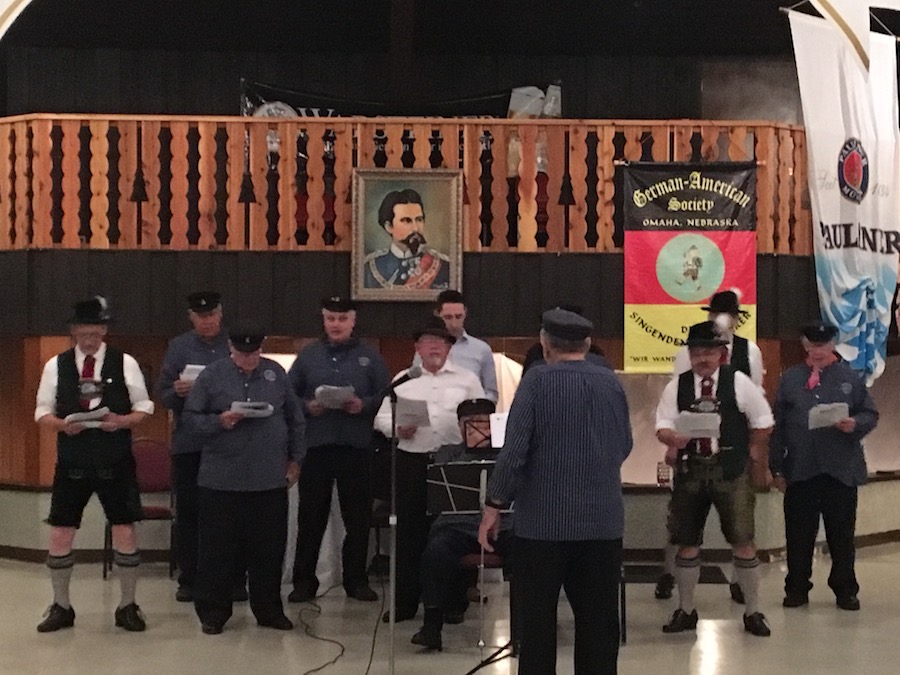 The Singenden Wander German Singers
It was then time to board Ollie the Trolley to travel to the German-American Society for dinner and entertainment. The meal (sauerbraten entrée) with all the trimmings was excellent. A variety of German draft beers or cocktails was available. The meal ended with home-baked dessert and coffee. We were then entertained by Die Singenden Wanderer, a fun-loving group of men who sang a variety of traditional folk songs and even involved the audience in joining the songfest. They were followed by the delightful Heimat Tanzer, a folk dancing group who performed several intricate folk dances in their colorful traditional dress.
Friday

Boarding Ollie the Trolley
Robert Welsh, Walt Vereecke,
Patsy Smith, Dorothy Yates,
Hannah Plummer and Peggy Clegg listen to our tour guide Cathy at the Boys' Town Museum.
After a hearty, hot breakfast was served in the hospitality room, we boarded Ollie the Trolley for our tour of Boys' Town.
"Boys Town was founded as a home and school for homeless, abandoned, neglected or otherwise underprivileged boys, regardless of color or creed, by Father Edward J. Flanagan (1866-1948) on December 10, 1917."
So states the Nebraska Historical Marker we saw upon entering the campus of Boys' Town. Our tour guide Cathy gave us a memorable tour through the museum and around the campus.
"Our young people are our greatest wealth. Give them a chance and they will give a good account of themselves. No boy wants to be bad. There is only bad environment, bad training, bad example, bad thinking." – Father Flanagan.
Saturday
The morning began with the secretary calling the Crew's meeting to order in the Omaha G Room. Following the Pledge of Allegiance, a moment of silence was observed for our recently Fallen Shipmates, whose names were read. Also remembered were Shipmates known to be in harm's way and a fallen First Mate. Bud Carlson sent a note expressing his sorrow for having to step down from his many years of voluntarily serving for many Reunion activities. Bud and Betty, you will be missed.
Recognition, thanks and a round of applause was directed to Shipmates and first Mates who work behind the scenes toward the continued success of our organization.
Secretary Art reminded shipmates to submit memorabilia to our Historian, Walter Vereecke and articles /photos of interest to Spence and Carolyn Meade, our Web-Masters.
The Board Members for 2017 are Tom Clegg, Jim Ernsberger, Jerry Harshbarger, Ron Kaiser & George Schureman. Congratulations to all!
The Reunion Site for 2018 was voted on. The crew convincingly voted for Lafayette/Baton Rouge/New Orleans, LA. Tentative dates are September 13-16, 2018.
Ladies' Meeting
The ladies meeting included sorting and bagging toiletries for the nursing homes. We had 40 bags, plus a large box of these items. Connie Wieser agreed to take 20 bags to a nursing home in Nebraska, and Charles and Patsy Smith took 20 bags to Southwest Veteran's Home in Jennings, LA.
Next year, in Pennsylvania, we will collect items for our four-legged friends at the Brandywine Valley SPCA in West Chester, PA. Their website, www.byspca.org has a Pet Wish List of items most needed.


Time to board the bus for a tour of Freedom Park! Freedom Park is an outdoor park and U.S. Naval Museum. It is home to the USS Marlin SST-2, the only target and training USN submarine left in the world, the USS Hazard AM-240, the only Admiral Class Minesweeper left in the world and the only collection of anti-aircraft guns held entirely in one park. It also houses many other naval displays. The Hazard and Marlin are still as they were when built (1945/1953).



*** BANQUET HIGHLIGHTS ***
Following welcoming and introductory remarks by the MC, Father Denny Hanneman delivered the invocation. Attention focused to The Table of the Fallen Shipmate and the traditional reading of the Fallen Shipmate plaque followed. Each fallen shipmate's name was announced.



In memory of each and every shipmate who served aboard the USS Robinson DD562,
who could not be with us tonight because of joining the "Greatest Admiral" of them all, our God in Heaven.
The single place-setting has you join us, both in Memory and Spirit,
and reminds us of sharing your Treasured Company.
The single rose signifies the Love, Dedication, and Call to Duty
for having served the Best Nation in the World.
Your shipmates Miss You, Thank You, and Salute You and Your Family.
Rest in Peace.




"Last Call"
JAKE E. CANADY PK
PEDRO G. CONSOS PK
FRANK T. PITTS PK
GORDON GRIEVER K
DAVID HUCKABONE K
ANGELO GAZZANIGO K
PETER LISTRO PK
BERNARD SCHREIBER K
Also remembered was the loss of first mate Maria (Ron) DeVuyst. We mourn, also, for the untimely death of the son of Diane (Rufus Fowler) Melton and additionally, the beloved son of Betty (Dave) Miller. Our thoughts and prayers are with those who could not be with us this evening.

*** The Chow Lamp is Lit! ***
Roast Prime Rib of Beef au jus – Chicken Marsala – Buttered Poached Atlantic Salmon



After the delicious dinner was served, the MC recognized the site locator and hosts and went on to announce the newly elected Board of Directors, Officers and appointed positions. He also asked each of the following to stand and be recognized: Spencer and Carolyn Meade as our Robbie Web-Masters; Tom Clegg continuing with the Robbie Net and both Tom and Peggy Clegg for remembering your special occasion with their 'sunshine' cards, and Patsy Smith for the creative centerpiece table decorations.

Connie Wieser was called to the podium to introduce our guest speaker, Darrell Everhart, CAPT USN (Retired). Her introduction highlighted aspects of his 25-year Navy career which included serving aboard Destroyers and Cruisers throughout the Pacific and Indian Oceans and the Arabian Gulf (Desert Shield and Desert Storm). Captain Everhart had hands on experiences fulfilling the roles of Gunnery Officer, Missiles Officer, Damage Control Officer and Navigator while at sea. He set a theme of the appreciation that so many have for the unselfish service – past, present and future…and the impact and influence bestowed upon young leaders of tomorrow by our military commitment. His sincerity was genuine and he expressed his compassion and recognition of the everlasting comradery existing among our shipmates.

Following Darrell's inspiring speech was a well-deserved ovation form the enthusiastic audience. The MC then presented him with an official 'Robbie' hat.


*** RAFFLE ***
Time for Patsy Smith and Sharon Harshbarger, our Rafflettes Supreme, to top off the highlight of the evening. Marvelous gifts ranging from a Kaiser – crafted oil painting of the Robbie to CA$H, gift certificates and an assortment of donated items were ready to be handed over to the lucky winners, one-by-one. Congratulations to all winners! Winners of the fitted Ship's Jackets donated by Richard's Military Post Exchange were Don and Connie Wieser. Special thanks to all shipmates, first mates, friends and organizations for their very generous raffle donations. Thanks, too, for all of you who purchased raffle tickets to support this very rewarding event.





Sunday


After an early hearty breakfast served in the Hospitality Room, it was time to board Ollie the Trolley for a tour of Omaha. What a fantastic city! Our tour guide, Bill, was a former Navy enlisted man and he was very informative. The city is a focal point for Art Museums of every medium and is renowned for "all that is molten", namely the forging of metal sculptures. We viewed the largest steel sculpture in the country, the Mormon Trail Center, the 3,000-foot Bob Kerry Pedestrian Bridge spanning the Missouri River and the TD Ameritrade Park (home of College World Series of Baseball).We also visited the National Headquarters of the Lewis & Clark Trail, where a Ranger narrated a program that highlighted the actual historic trail.

It was time to trolley our way to the Old Market Place which offers unique shopping, restaurants, art and entertainment. After eating at one of two recommended restaurants, The Spaghetti Works and Upstream Restaurant and Brewing Company, it was time to return to the hotel. Don and Connie, we loved every minute of your fantastic Omaha! Thanks for inviting us!

The shipmates, first mates and (guests) who attended this 36th Annual Reunion are listed. Joining us this year were very special guests Fr. Denny Hanneman who delivered Mass on Saturday afternoon and guest speaker Darrell Everhart, CAPT USN (retired) along with his wife, Terri Everhart, CDR USNR. We were also delighted with first time guests Kelly Philbrick, daughter of Ron & Joanne Kaiser, and Patrick Dunn, son-in-law of Bob Welsh, as well as the family of Don & Connie Wieser, daughter Stacee Patterson, son-in-law Duncan Patterson, son Riley Wieser, grandson Cy Patterson, and Cy's buddy, Sam Pollis. The familiar faces of guests Dorothy Yates, Betty Jost, Hannah Plummer, Susan Souba, and Lynn & Janice Leonard rounded out our guest list.



Art & Judy Bowne Tom & Peggy Clegg and (Dorothy Yates)
Vern & Marge Compton Darrell & Terri Everhart
Perrin Farrar and (Betty Jost & Hannah Plummer)
Father Denny Hanneman Jerry & Sharon Harshbarger
Ron & Joanne Kaiser and (Kelly Philbrick) Don Loder
Spencer & Carolyn Meade Art & Bonnie Schuetze
George & Eleanor Schureman Jeri Schwerin
Charles & Patsy Smith Fred & Joyce Souba and (Susan Souba)
Jim & Maye Tomkinson Walter Vereecke Robert Welsh and (Patrick Dunn)
Don & Connie Wieser and (Stacee, Duncan & Cy Patterson, Riley Wieser & Sam Pollis)
M. Evonne Wymer and (Lynn & Janice Leonard)





Looking forward to seeing you in September for our 37th Annual Reunion
at Philadelphia (Exton), PA.
Tentative dates are September 14-17, 2017
Calm Seas and Smooth Sailing!

Korea

Korea
Front Row: Art Schuetze, Perrin Farrar, Fred Souba.
Back Row: Tom Clegg, Walter Vereecke, Bob Welsh, Don Loder, Art Bowne, George Schureman.
Post Korea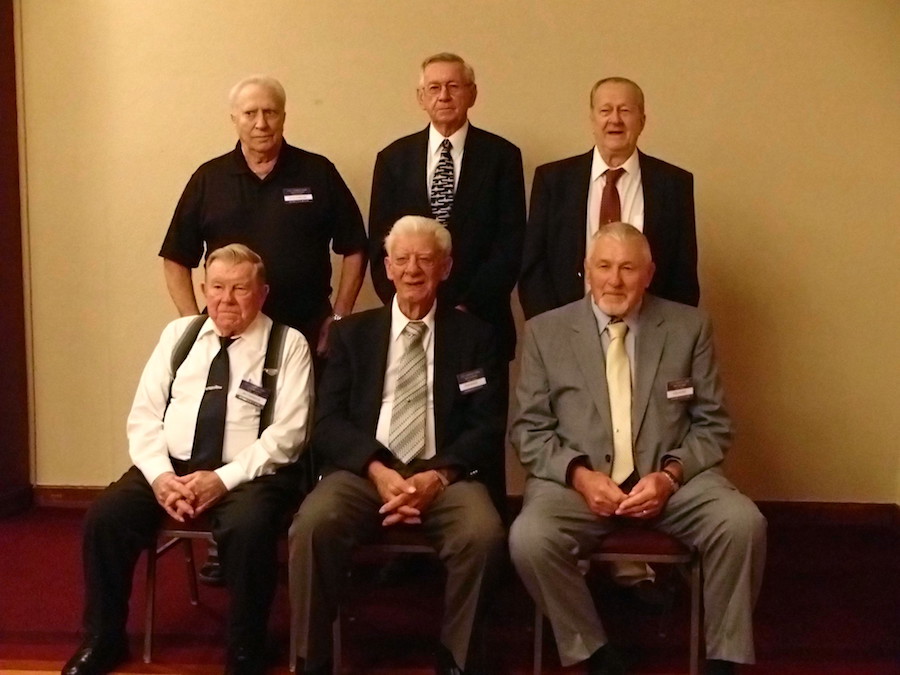 Post Korea
Front Row: Jim Tompkinson, Ron Kaiser, Don Wieser
*Back Row: Vern Compton, Charles Smith, Spencer Meade
Gals of the Robbie

Gals of the Robbie
Front Row: Jeri Schwerin, Maye Tompkinson, Bonnie Schuetze, Connie Wieser, Evonne Wymer.
Middle Row: Marge Compton, Peggy Clegg, Eleanor Schureman, Betty Jost, Joyce Souba.
Back Row: Patsy Smith, Carolyn Meade, Joanne Kaiser, Sharon Harshbarger.
Guests

Guests of the Robbie
Front Row: Susan Souba, Stacee Patterson, Hannah Plummer, Kelly Philbrick, Janice Leonard
Back Row: Patrick Dunn, Sam Pollis, Cy Patterson, Duncan Patterson, Riley