Year 2007 Reunion – Our 27th
Branson, Missouri
September 13-16, 2007
Clarion Hotel
2820 W. Highway 76
P.O. Box 6004, Branson, MO65615
Tel: 1-800-725-2236
Web: www.clarionhotelbranson.com
Contact: To register interest in attending, contact:
Art Bowne, Secretary
USS Robinson DD562, Inc.
Tel: (409) 935-2253
E-mail: ajbowne@houston.rr.com
Anyone desiring copies of our USS Robinson DD562, Inc.
exemption application and supporting documents for non-profit organizations, contact:

George Schureman,
24 Miles Road
Claymont, DE 19703
(302) 798-7111
---
2007 Reunion in Branson, Missouri
Nestled among the green Ozark hills of southern Missouri, between Lakes Table Rock and Taneycomo, is the surprising town of Branson. Boasting of more stage shows than NYC and LA combined, it was the site of our 2007 Reunion. There we were – 42 old salts - all proud graduates of Robbie U., along with a fantastic support group of 46 wives, family and guests, all having a ball. The Clarion Hotel in beautiful downtown Branson was our temporary home.

Among our 42 old salts were 4 "first timers", ex-Robbie crew mates who have somehow managed to survive for 43 to 61 years without the therapeutic effects of a Robbie Reunion. They are:
Eben Ives of St. Joe, Arkansas – DC3 1953-54 – with Anna McCollum
Spencer Meade of Riva, Maryland – SOG2 1956-59
Paul Reuter of Waterloo, Iowa – CSSN 1952-54 – with wife Mary
Vernon Stump of Deland, Florida – GM3 1952-59 - with wife Linda
Vernon Stump holds the record for longest continuous service aboard the Robbie – 7 years! After leaving the Robbie in 1959 he continued his Navy career, retiring as a GMMC. We welcome these newcomers with open arms. If you served on the Robbie and have never attended one of our trademark reunions, give serious consideration to joining us next September in Boston. Now a look at the old salts:
World War II Crew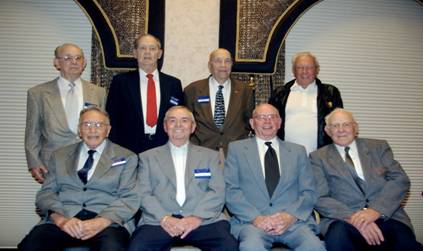 Back Row, L to R: Andy Anderson, Ralph Moore, Dave Miller, Fred Robertson
Front Row, L to R: Tony Duran, Maurice Johnson, Roy Davis. Ray Burras
Korean War Crew


Back Row, L to R: Fred Souba, Paul Reuter, Pete Masella, Bob Welsh,
Art Bowne, Don Loder, Vernon Stump, Art Schuetze,
Jim Ernsberger, Tom Clegg, Luke West, Eben Ives
Front Row, L to R: George Schureman, Gene Ferguson, Walter Vereecke,
Tom Womble, Howard Wise, Don Hendrick, Frank Schwerin
Post-Korea Crew


Back Row, L to R: Jerry Harshbarger, John Lucas, Jim Paulson,
Charles Smith, Charles Allen, Vern Compton, Spencer Meade
Front Row, L to R: Dick Gruny, Jim Tomkinson, Don Wiser,
Hal Mullen, Bill Murphy, Ron Kaiser
Saturday Morn in the Jungle Room
Saturday morning is traditionally the time the crew meets to decide where the 2-year hence reunion will be held, and who will host it. So what do the non-crew female celebrants do to pass the time? Until a very few years ago they gathered in a separate room, and chatted over coffee and doughnuts. But then came Peggy Clegg with a whole different approach – a dress-design competition. Last year it was hats, this year vests, and next year, in Boston, aprons.
Here you see the ladies sporting their vests – and hats - while working on personalized quilting squares for a quilt to be raffled at our Boston reunion. The vests were judged in four categories: patriotic, western, crazy/creative, and seasonal.
The Winners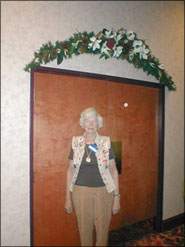 Patriotic:
1st place, Sharie Paulson
2nd place, Barbara Reynolds
3rd place, Louise Reuter
Seasonal:
Western:
1st place, Dot Kiker
2nd place, Margie Compton
3rd place, Sharon Harshbarger
Crazy/Creative:
1st place, Venice Loder
2nd place, Mary Ellen Ernsberger
3rd place, Sharie Paulson
And Then There Was …
….Our traditional Saturday evening banquet. As has been our practice for several years, our MC Supreme, Art Bowne, called our attention to the Table of the Fallen Shipmate. and read the accompanying plaque. A new plaque contributed by our Rev. Howard Wise, was also read
It's a Special Memorial Table,
In the midst of the banquet room;
The chair is sadly empty,
The table adorned with a rose in full bloom.
They're so sadly missed by loved ones and shipmates,
As we gather each year;
We continue to pay respect and honor,
To those that we love so dear.

It's just like any other table,
To those who know not the memories it holds;
Memories of other shipmates,
More precious than silver or gold.

Tonight there will be a few moments,
We'll remember them in silence and prayer;
We'll treat the occasion as we always have
As if each one of them were here.
We have served together on the Robbie,
In troubled times we've sailed the foam;
But now the Eternal Voice from heaven,
Has beckoned and called them home.
Yes! At that table there's silence,
Just as it has always been;
We again say farewell to our shipmates,
Farewell, farewell, until we meet again.
Our superb Clarion Hotel dinner was followed by our traditional raffle, and then the photo session which gave us the group photos displayed earlier.
---